A client's guide: using your WordPress CMS
In this WordPress CMS guide we provide instructions on how to perform some common tasks in the back-end of your website.




As your company grows and develops, it is important to keep your website content fresh, relevant and engaging. You may want to post news updates, change the copy on a page or simply delete a post.

In order to make these changes easier for you to perform, we develop websites using WordPress or Drupal. These are much more user-friendly, as you can change many elements of your website without having to learn a line of code. This means you can continually and easily update your website long after we have built it – your website content is not fixed, so remains relevant as your company grows and develops.

Websites traditionally have a front and back end. The front-end is what a user sees on their browser whilst the back-end is where the website manager can make changes. In this guide we will provide instructions on how to perform some common tasks in the back-end of your website.

However, if you are still unsure about how to proceed or if you are wondering how to perform a task that we haven't covered here, then do please get in touch or navigate to your PDF guide. We will also update this guide to align with any CMS updates.
Overview and logged in
To log-in, visit your website and add /wp-admin onto the end of your URL. You can do this on a smartphone or tablet, but we recommend using a laptop or desktop device because it will be easier to make changes.

You should see the following page: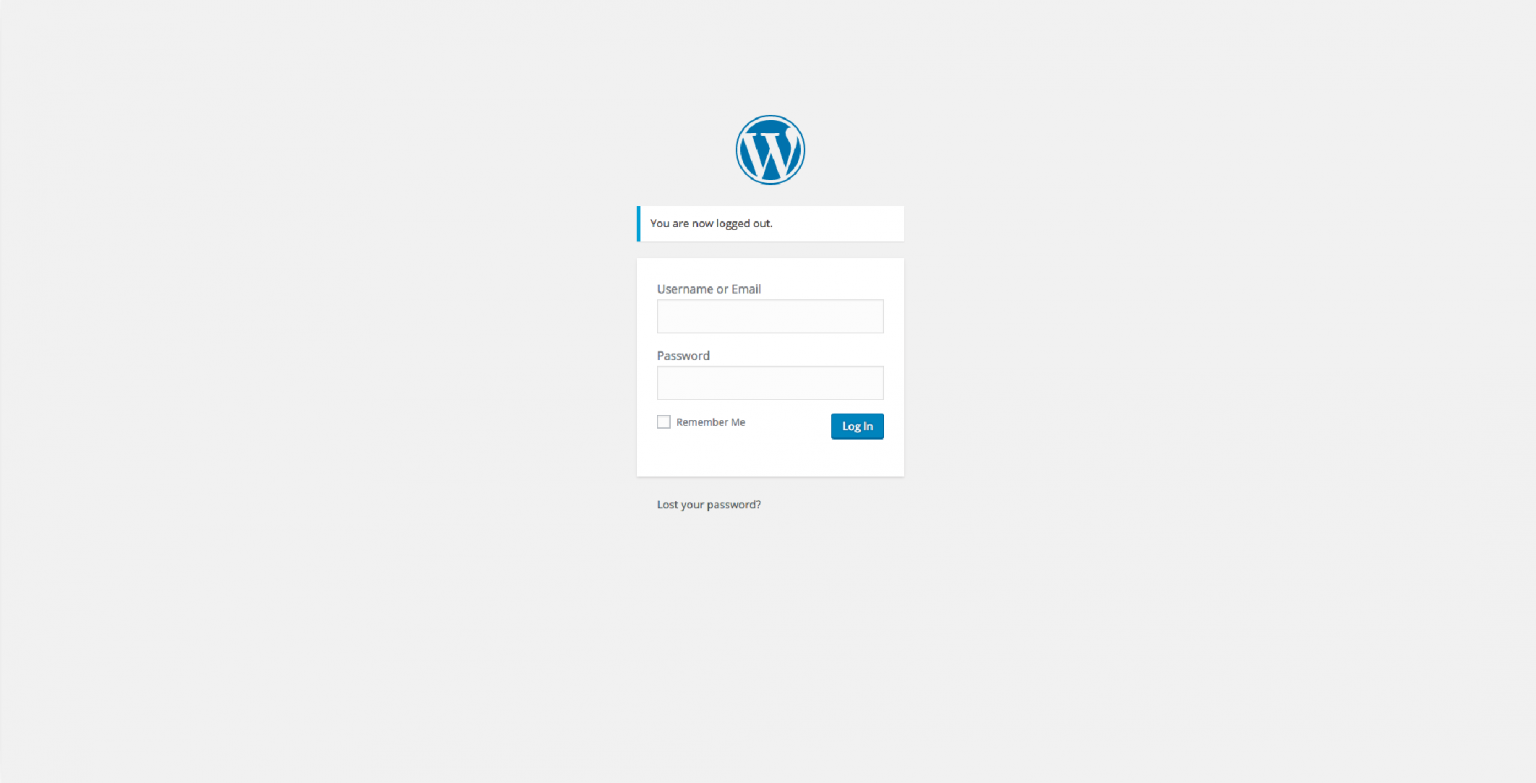 Enter your username and password and click log-in. If successful, you will be taken to the WordPress Dashboard, which is your view of the back-end of the website. We have numbered all of the functions you will need to use in order to manage content.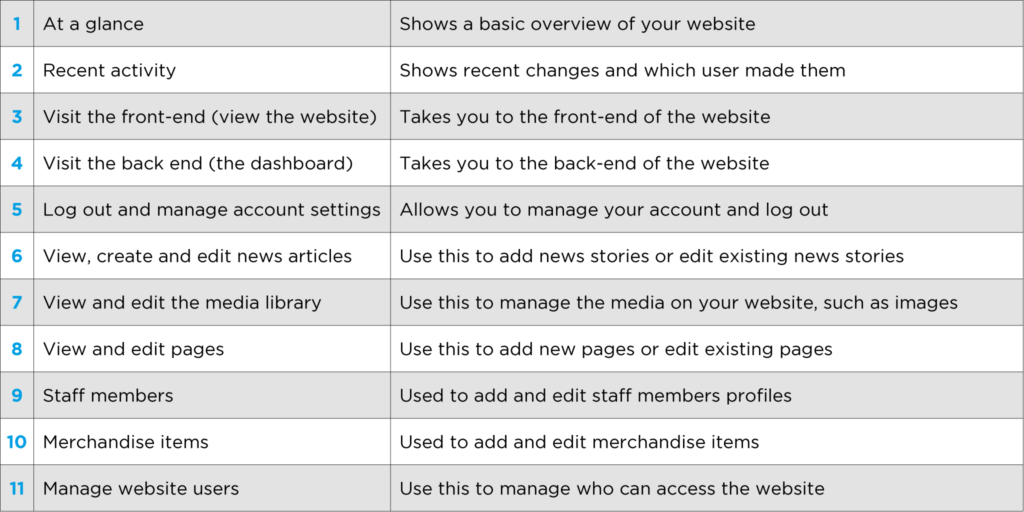 News Articles
Your news articles are called Posts in the back-end of the website. You can edit or delete existing posts or add new ones by using the Posts tab in the dashboard. You can either click the tab or hover over it for more options.
Add a new article
Hover over the pages button and select Add New from the menu, or click on Posts and then select the 'Add New' button near the top of the page. This will take you to a blank post.

We recommend that you write your posts directly in the editor, rather than pasting them in from another program (such as Microsoft Word) – this will avoid accidentally copying in styling from a word processor. You can save posts as drafts if you want to revisit them before publishing.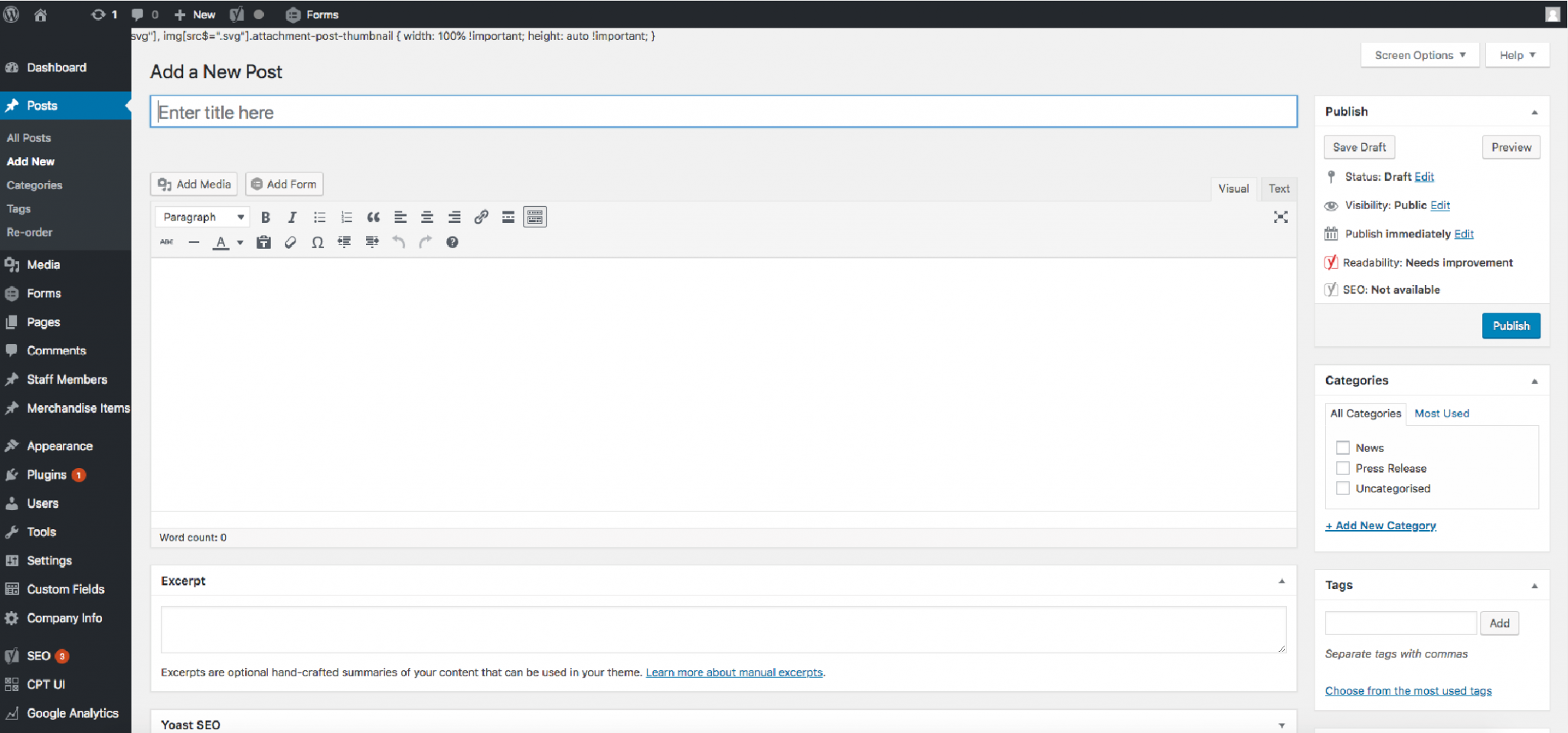 To add an image within the post, scroll the cursor to the position where you would like the image inserting, click on Add Media which will open the media library. You can then either select an image currently in the library by scrolling, clicking the image and then insert into post. Alternatively if you want to insert a new image, click on the upload files tab, then either drag an image into the grey panel or click Select files, select the file you wish to upload which will then upload it to the media library. Again select the image and insert into post.


Edit an existing article
From the dashboard homepage, hover over the Posts tab and select All Posts. This will show you a list of all news articles on the website (drafts and published). Hover over the one you want to edit and select 'Edit' from the options that appear.

You will be redirected to the editor for that article, edit the fields as you would those of a new post. You can preview your changes before updating the post by clicking the 'Preview changes' button.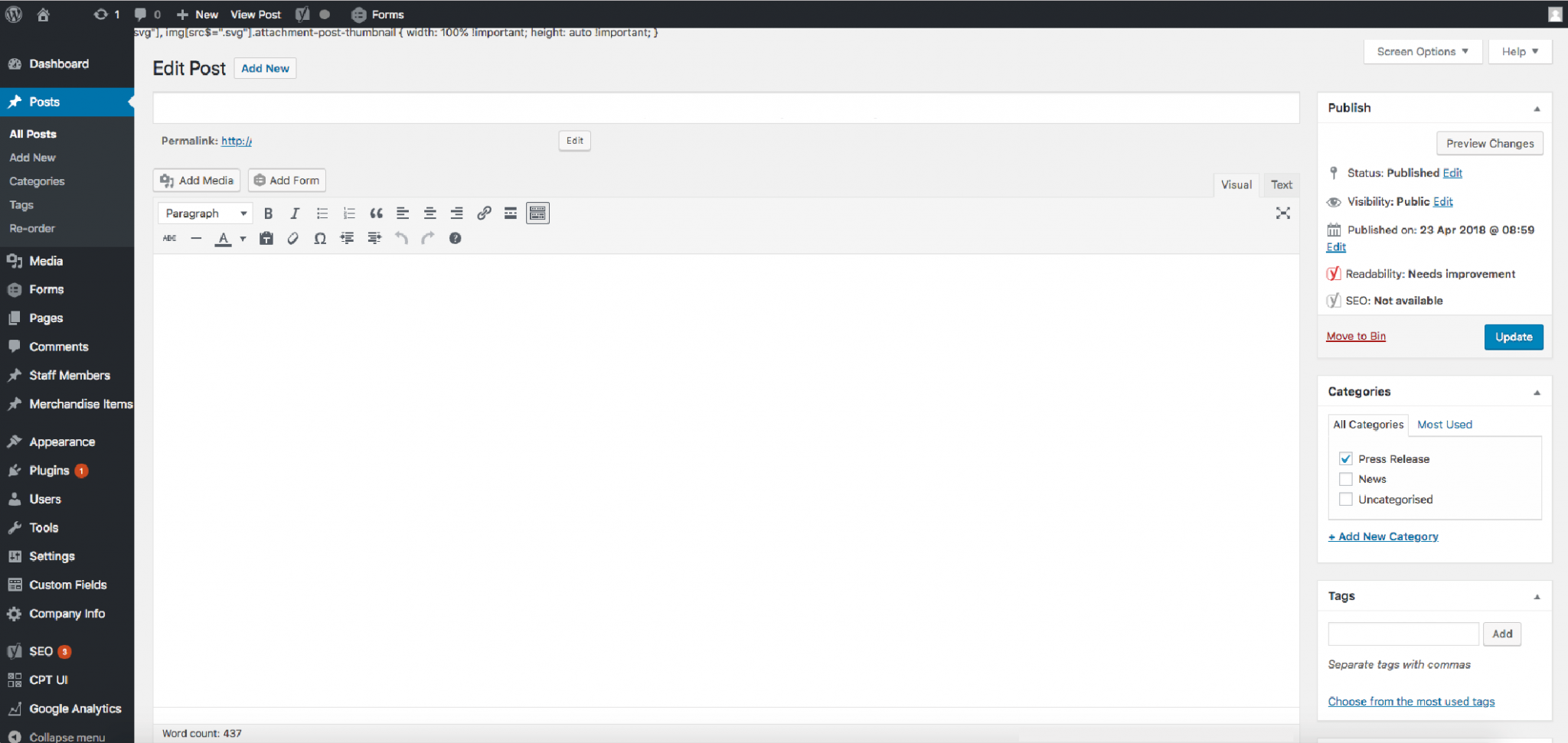 Deleting posts
If you want to delete a post, click Bin (highlighted in red) from either the post listing page, or the post editor itself. This will not permanently delete the article, in case you want to restore it at a later time, but it will remove it from the front-end of the website.
To delete it permanently view Posts in the Trash and select 'Delete permanently'.
View and edit pages
Editing pages
A website is made up of a number of pages which commonly have a header, a title and paragraphs of text. Some pages on the website require extra fields such as Products and Sectors and these are kept separate. The pages which are contained in the pages section are the common pages such as about us, contact etc.

On the dashboard, selecting All Pages will take you to an overview of every page on your website. To edit a page, hover over it and select 'Edit' from the list of options that appears. You will be taken to the page editor. From here you can make your changes.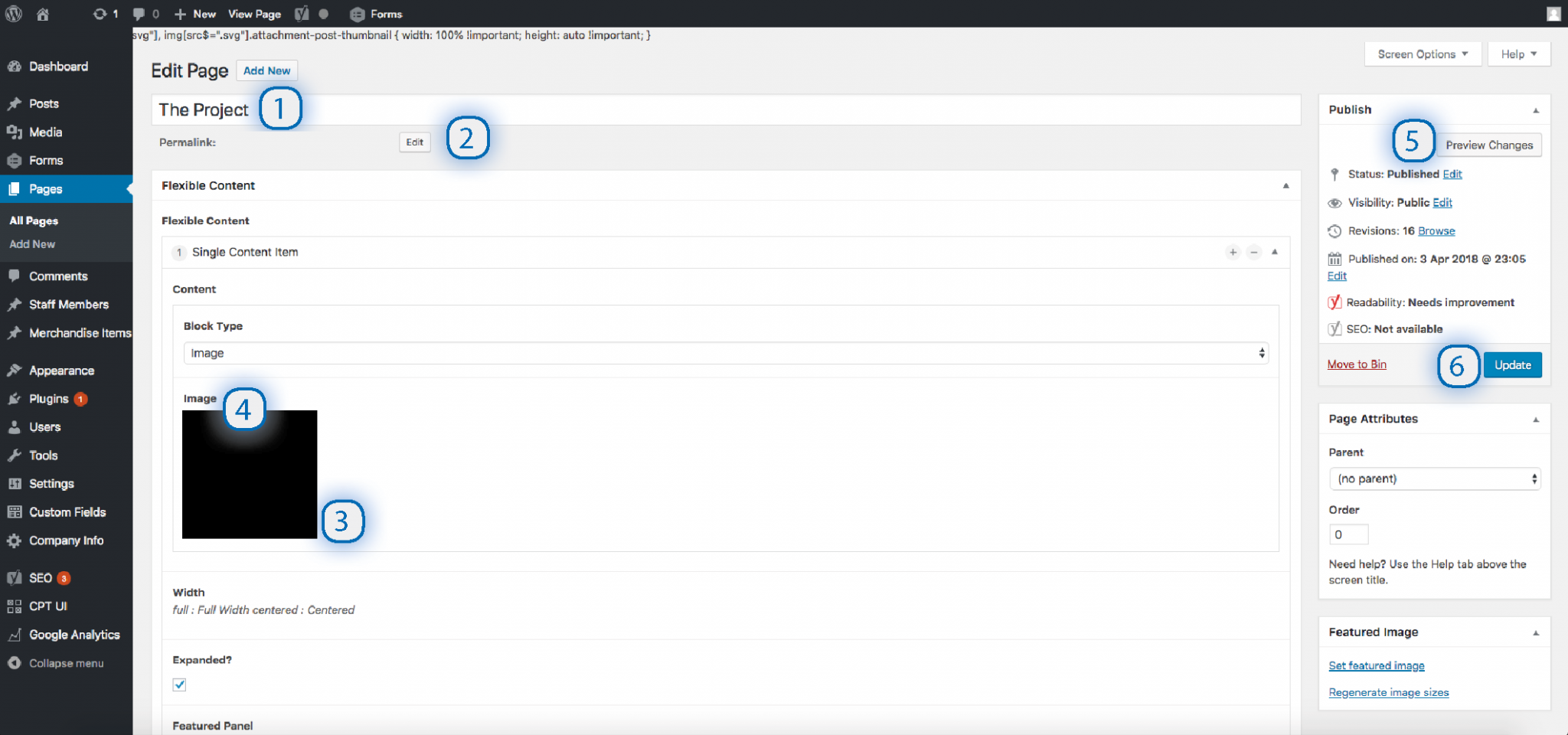 Adding links
You may want to link a piece of text to another page on the website or to an external URL. You can do so by highlighting your selected text and clicking this button in the toolbar of the page editor (see screenshot below). Either select the desired page from your website, or paste in your external link and then click apply.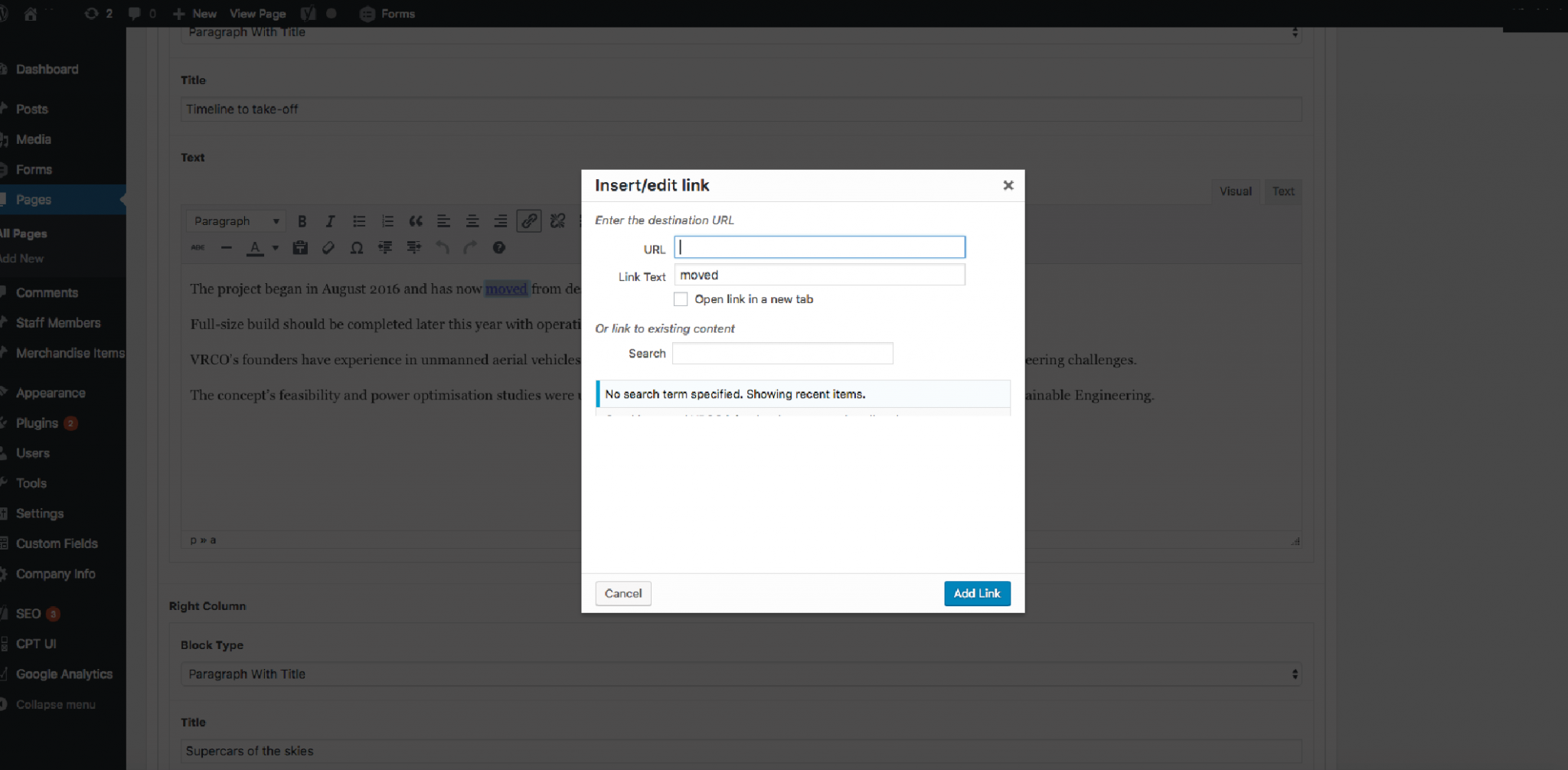 Adding pictures
When clicking Add Media, a screen pops up displaying all images and video uploaded to your website.

Click Upload Files to add a new picture to your page, then drag in the file from your computer or click Select Files to find it on your device. When your image has finished uploading, check the settings you want and click Insert into page to add it into the field.
Final notes
As a manager of your website, you have access to all of the files that relate to your site. When editing or adding content, we recommend using the 'Preview' options (where possible) to see changes in the front-end before you publish them live.

We don't recommend editing the Appearance or Settings for your website, either using the WordPress CMS or directly editing the code files available.

This guide will give you enough direction on changing the content of your website. We don't recommend editing or amending any files unless you are confident to do so.

Please be aware that some changes you make may be irreversible without dedicated support from our team. If you are unsure then we are happy to help with any queries, just get in touch.