How to create effective case studies that drive results
To produce effective case studies that will demonstrate your business credentials, here are a few things you should start to think about.



When considering a purchase online, on Amazon for example, you are unlikely to buy a product that has a lot of negative reviews – especially if this is the same price as another product that has positive reviews. The same applies to business.

A case study that walks prospects through a story of how you helped a similar customer is one of the best ways to show off your results and persuade potential customers to work with you.

So to help you produce effective case studies that will demonstrate your business credentials, here are a few things you should start to think about…
Collect Customer Testimonials
To help you really demonstrate the success of your product or service you need to collect testimonials from your customers. These are often formatted differently to the rest of the case study text to catch the eye of readers, who tend to skim content rather than read it thoroughly.

To help your case study seem as authentic as possible include the name of the person, their company and their position alongside their quote. You could also consider including a link to their LinkedIn account but make sure you have the person's permission before you publish this information.


Collect Customer Testimonials
Try to collect customer testimonials from the perspective of the person who will be making the purchasing decision. For example, if an MD is most likely to make the final decision whether to purchase your product or service, then try to source a quote from the MD of the company featured in your case study.

Before you start writing your case studies you also need to consider the level of your target audience. If your customers won't understand the technical jargon that your product or service involves, you need to make sure that your case study is more accessible.

Choose past clients or customers that your current target market can relate to. Is there a specific industry you would like to do more work in? Is there a certain problem that you are really good at solving? Being specific in this way will help your case studies resonate with clients in certain industries or situations.
Writing a case study: Think problem and solution

1. Title

Every case study that you create will need a title that clearly outlines the results. This will catch the attention of audiences that want to achieve the same results or have the same problem.
2. Introduce the customer and their problem

Like a story, good case studies have a beginning, a middle and an end. In the introduction you should outline who the customer was and the problem that you needed to solve. This will help the reader to identify with, and draw parallels to, the customer in your case study.

You could also include the steps that this customer took to solve the problem themselves before coming to you, including products or services they used along the way.
3. Your solution

In the next section you should begin to discuss your solution – and don't worry about being too promotional. What did you do to help the customer overcome their challenges? If you offered a service, demonstrate the good customer relationship that you formed.
4. The results

It is always a good idea to provide some real, hard results when concluding your case study.

If you claim that your product or service 'saves people time and money' or is the 'best value on the market', this is where you will want to back up your claims with evidence. Be as specific as you can in this section and provide some numbers if possible. This might be savings (money or time), growth, ROI or similar.

But don't worry if you don't have any hard numbers to demonstrate your success, just be as specific with the results as you can. For example, gaining a repeat customer off the back of your product or service demonstrates the value that you provided.



Include images or different formatting options

In our online world time is a limited resource. So to encourage potential customers to read your case study and to keep them engaged, you need to break up the text using subheadings and images.

If you have a particular piece of data that you want to draw attention to you could show this using a graph or a visual. You could also format your quotes so that they appear to stand out, or highlight the main points of your case study using different formatting or bullet points.

Whatever you decide to include, images are a must. By providing an image of a small group of customers, your process, or the end result, your case study will appear more authentic, engage the reader for longer and help them to better understand the case study. You could also include your client's logo – especially if they are a big name in your industry.


Make the most of your case study
To make your case studies easy to find, it is a good idea to create a web page for each project and include a link to these in the navigation bar on your website. You could also draw attention to your very best projects by featuring these on your homepage.

You should consider sharing case studies on social media along with a link to the complete story. In these posts, you can pick out the most compelling points of your project to encourage people to click through and read, and you should @mention the client or customer if possible.

Another way to share your case studies is through the use of emails. If you have a case study that you think a potential client would be particularly interested in – maybe they are from the same industry or have worked closely with your client before – consider emailing them a link after an introductory meeting or sales call.

Finally, you could produce these case studies in a print format to use in client meetings, display at conferences and hand out during industry events.
Some good examples
We have used many of the techniques discussed above when designing and creating case study pages for our clients.
For example,
2bm's case studies
are separated by the headings 'the requirement', 'the challenge' and 'the solution'. The solution is broken down into bullet points and the customer quote is highlighted in a different format to make it stand out.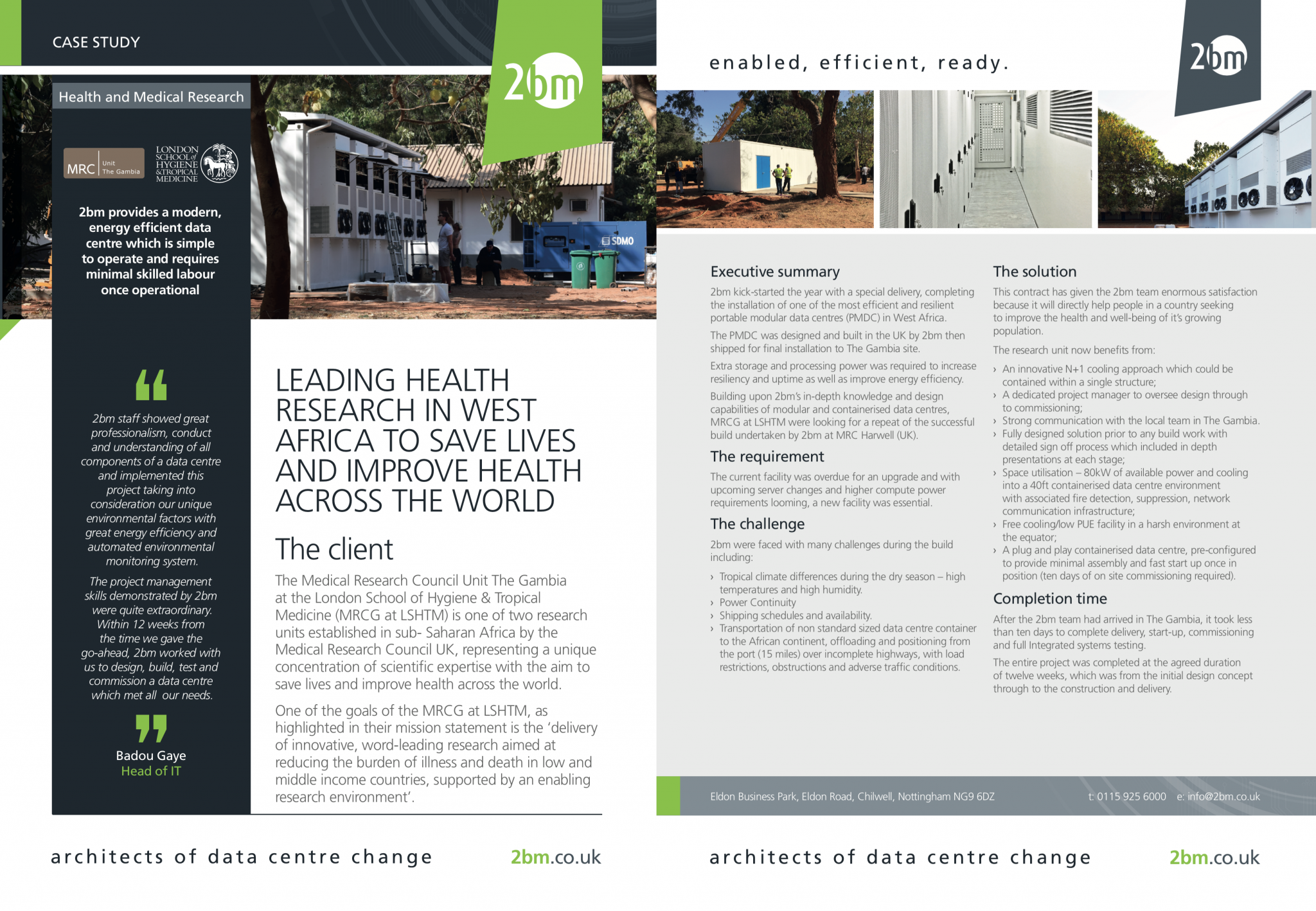 In
Morecrofts' projects
, the main points of the case study are highlighted in a different format, including the client, location and services provided, and the client quote is in a prominent position at the bottom of the case study.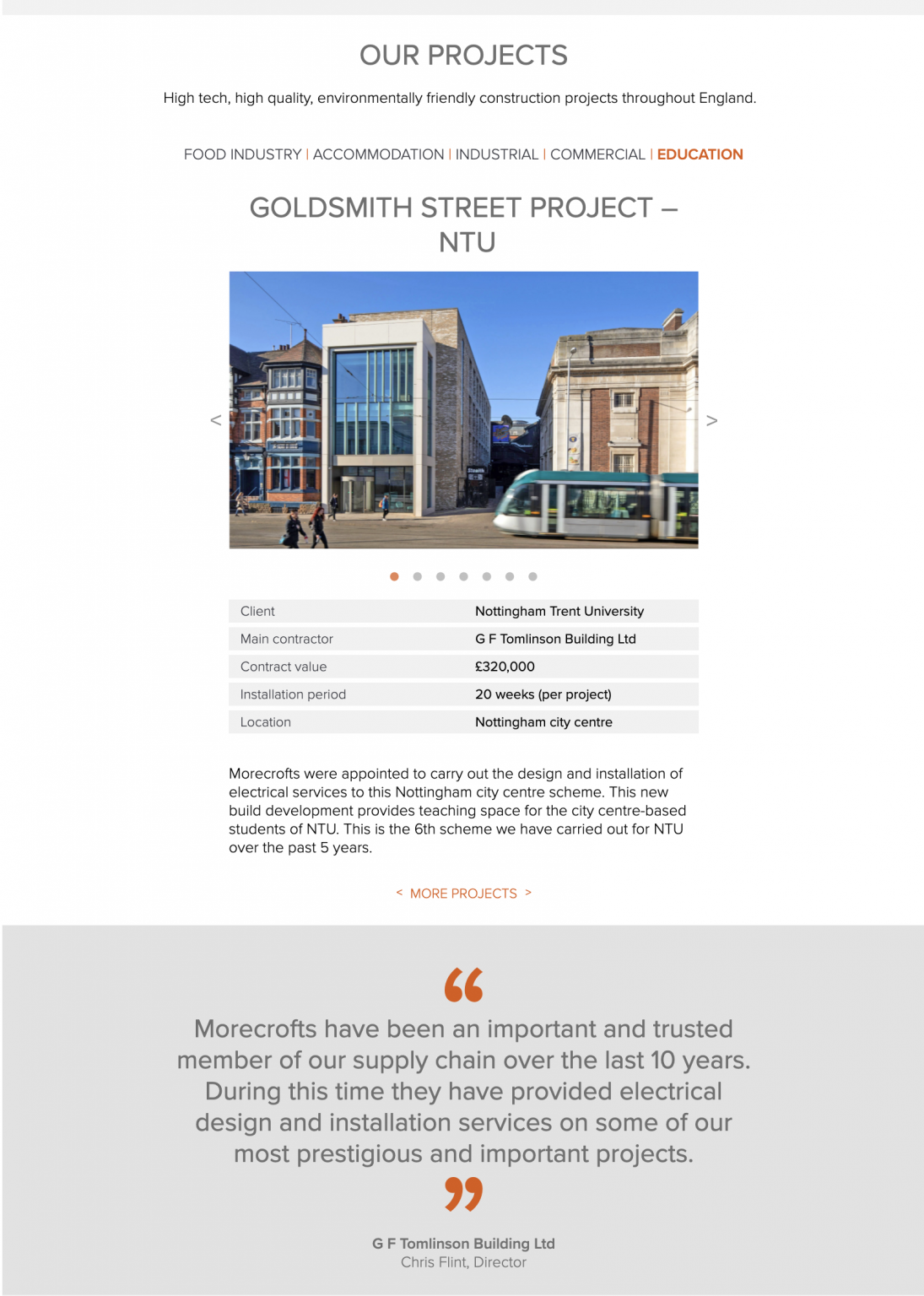 If you need more help to design or produce your case studies, we will be happy to help or advise you – just get in touch.