23 Sept 2020
Lead generation on LinkedIn: A guide
Read our strategy for locating and influencing a target audience as part of a lead generation campaign.



18 years since its launch in 2002, LinkedIn has 310 million monthly active users and is a significant player in the networking world. A powerful B2B platform, it's used by professionals to find and advertise jobs, connect with like-minded people, share industry insights and advice… and crucially, engage potential customers.
Half of B2B buyers use LinkedIn when considering a purchase. They want to know more about who you are, what you do, whether you are the type of person they want to do business with, and whether you are actually any good.
Making a good first impression and engaging with new business leads on the digital platform can therefore enhance your visibility, credibility, and facilitate customer connections. Here's how to do LinkedIn outreach right.
For tips on how to stand out to potential clients on LinkedIn, read
our guide to an effective personal LinkedIn profile
.
Searching for potential buyers
Using LinkedIn's search function
If you're already using LinkedIn you'll likely be connected to people you know – but you'll want to use the platform to find potential customers too. That's where
the search function
comes into its own.
Knowing your target audience, the types of people who typically buy your product or service or the job positions of prospective buyers, you can use the search tool to search for job positions, locations and even employees within a specific company.
For example, say your target audience are those that work in HR and live in Derby. You can search for people in 'human resources' in the top search bar and filter by location.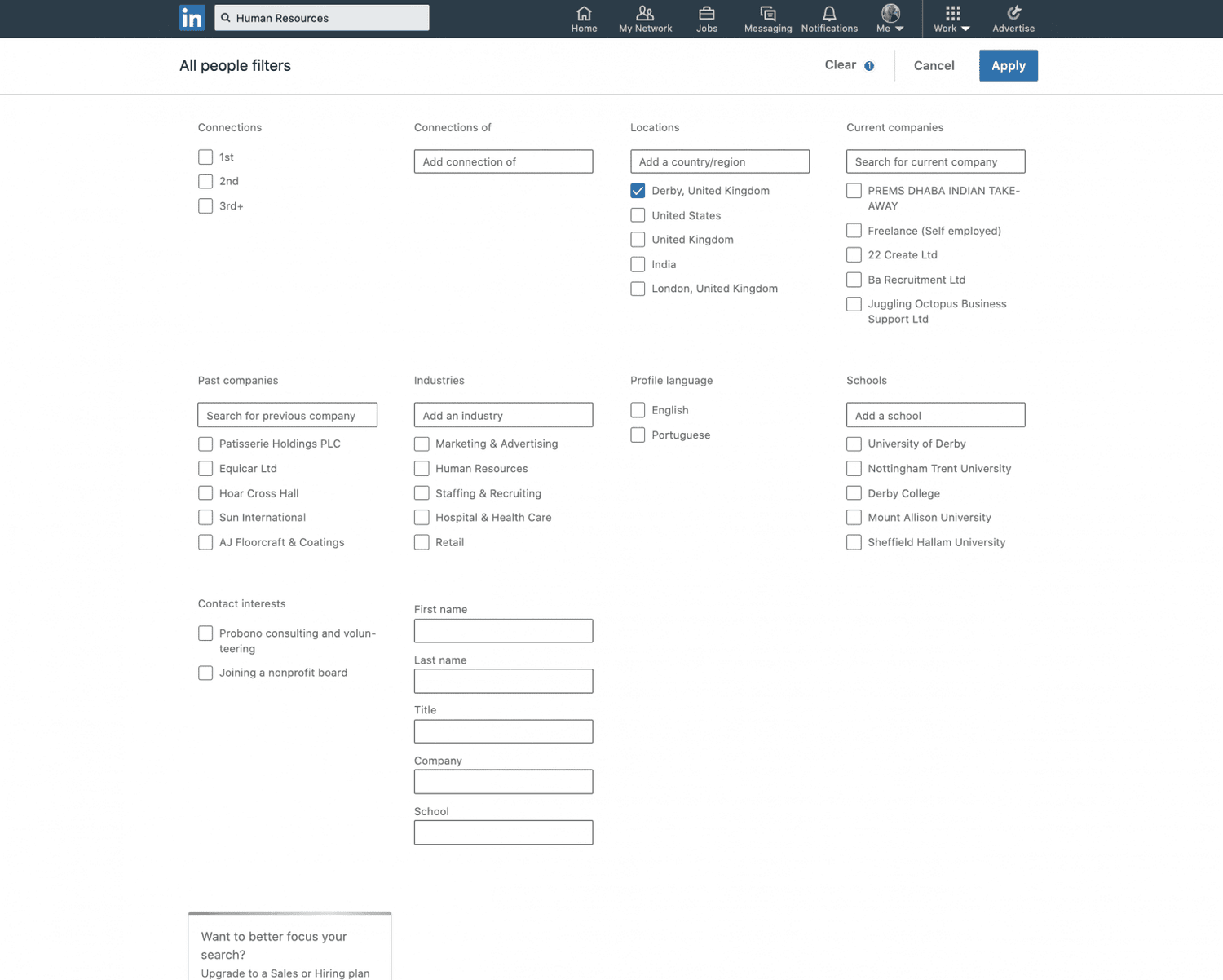 Say you want to get your product in front of the 'buyer' within a large company. You can use the search function to search for people in this job role and under 'current companies' you can filter by the specific company you're targeting.

Once you know who you need to connect and drive conversations with you can start to use the techniques below to get closer to your target audience.


Form valuable connections
The next step is
sending a connection request
alongside a personalised message. Avoid the 'I want to sell to you' earful – at a networking event you wouldn't do this in person. Instead, refer to them by their first name and customise the message to give a short introduction.
You may want to make a case about why they should connect with you, mention your mutual connections, a shared group or interest, something impressive about their profile or that you found their post or article interesting 'because…'.
If you're unsure the recipient will accept the connection request, want to make an impression first or are receiving negative feedback, you can perform the next step 'engaging with connections' before sending your request.
Once you have formed a valuable network of leads you can download your connections to an excel spreadsheet by navigating to 'my network' from the menu at the top of the page (1), selecting 'connections' under 'manage my network' (2), clicking to 'manage synced and imported contacts' (3) and then choosing 'export contacts' (4). Finally, on the next window select 'want something in particular' and then 'connections' from the list (5).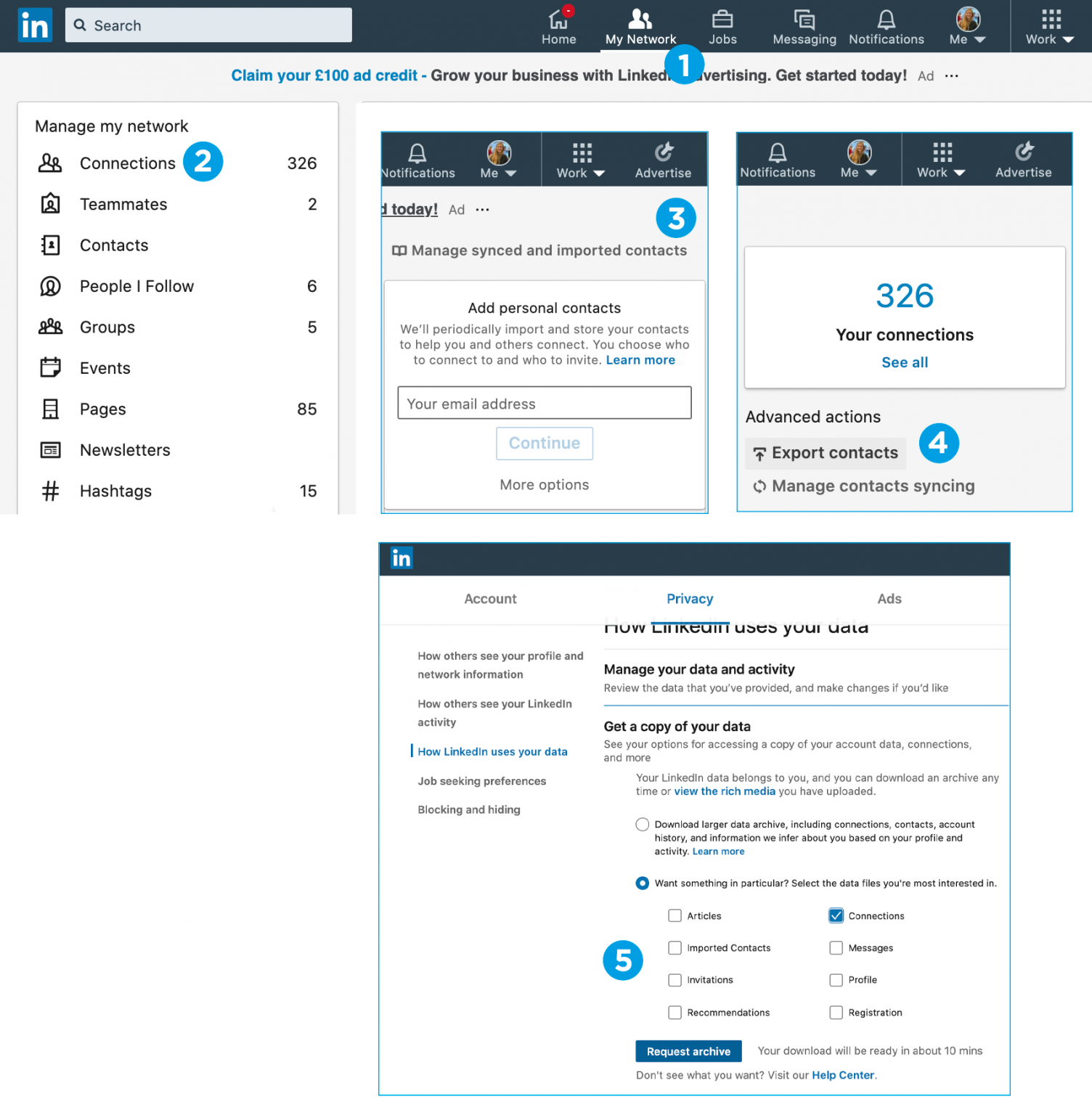 Engage with potential customers
Now you can start to engage with potential leads by interacting with their posts (sharing, liking or adding comments), creating a conversation through
direct messages
, and putting your name or your company name in front of the right person.
Begin to forge a connection with your potential customers by asking or answering questions, discussing relevant topics or by replying with your thoughts to conversations that you can add value to.
After you have initiated a conversation you can then – slowly – guide the discussion towards where you want it to go.
Create content
Finding topics
As well as interacting with the content of others you should aim to create your own organic content too. Find something that will be interesting and engaging. You could create content to:
Thank or promote other people. You could recommend and acknowledge people in your network for the support they have given you.
Share success stories. Without selling, subtly let people know how you add value by sharing great results from a recent project, welcoming new clients on board, talking about a recent webinar or exciting people about an upcoming event.
Engage your target market. Think about what your target market would find interesting – could you share articles you have read or projects you have completed that are relevant to their sector?
Educate followers. 60% of the people on LinkedIn are there for information, advice, thought leadership and the like – so share insights, ask questions, drive conversations, and demonstrate how you are an expert in your field.
Be strategic. Your most recent posts and interactions are shown on your LinkedIn profile under the 'activity' section. Use this to your advantage by sharing or discussing topics relevant to your target market before sending a connection request.
What to include
To effectively capture attention amongst the busy and constantly updating news feed, you will want to post regularly, add rich media and optimise your posts. This could include:
Images and video. These are great for making your content stand out from the crowd.
Hashtags. Industry-related or event-specific, hashtags help your posts get seen by more people.
Mention relevant people and businesses. If you're discussing a recent event, thanking a connection or welcoming a new client, you will want to mention the relevant people or businesses involved.
Articles. In a similar format to a blog, LinkedIn Articles are pieces of long-form content that enable personal profiles to share more in-depth professional insights directly on LinkedIn.
Documents. PDF documents can be used to graphically explain a process, provide a format similar to a presentation, and share anything from culture stories, insights and trends to event content.
Join groups
LinkedIn groups
give users the opportunity to post and form discussions with like-minded individuals based on industry or interest.
Find groups you want to join
by searching by name or keyword, or you can browse groups recommended for you by LinkedIn. When selecting the right group for your purpose, check the information 'About this group' on the group homepage.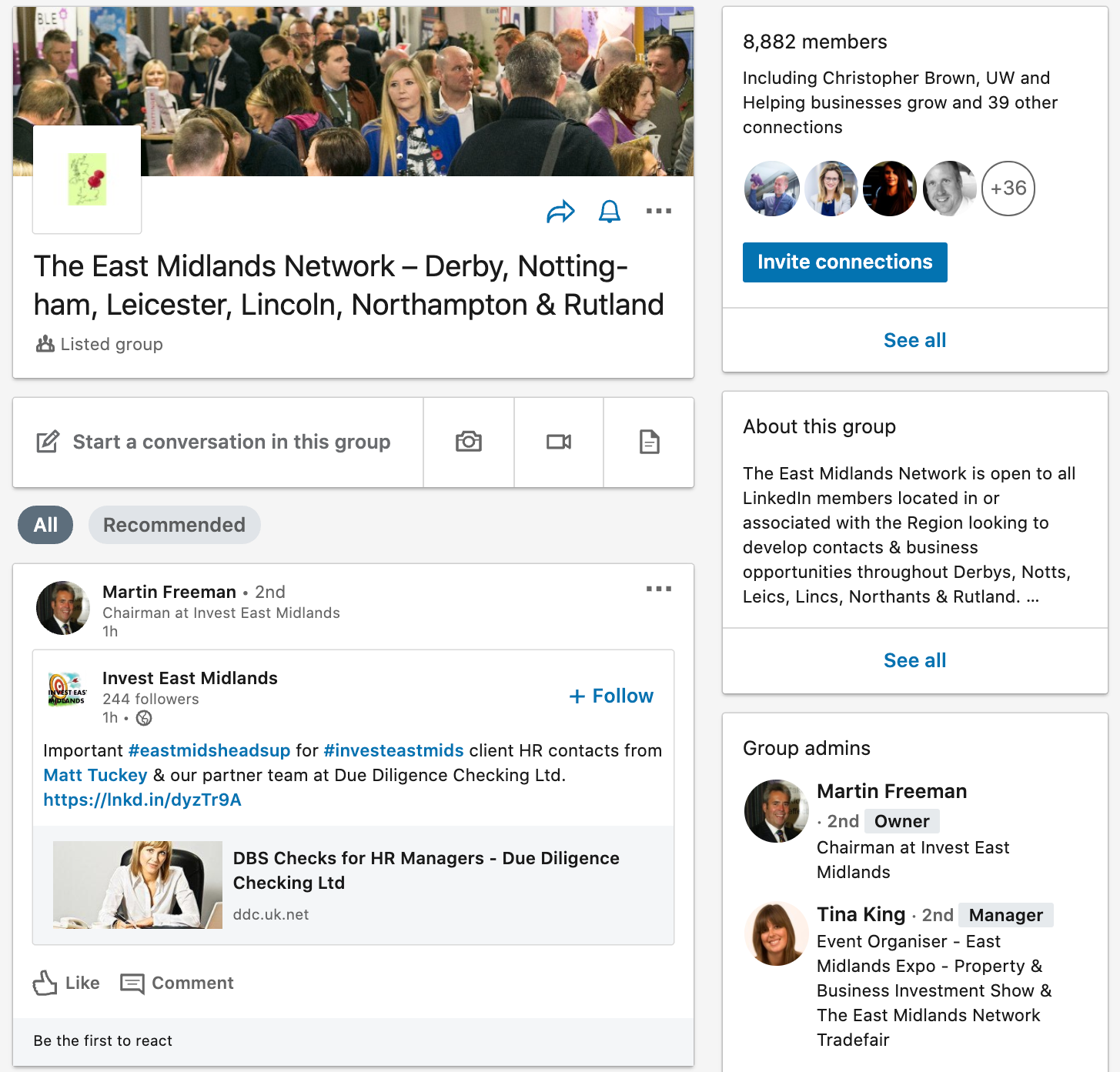 By joining groups based on your industry, your profession, your target market and your interests, you can begin to connect and network with a targeted group of people.

Similar to your usual news feed, you can share posts with PDF documents, images and videos here. The difference is that members of the group will see your content, rather than all your connections.

Having joined a group, remember to never 'hard sell' or spam members with low quality content – this can damage your reputation. Instead, similar to the content options discussed above, focus on helping others, sharing useful and relevant content and engaging other group members with your knowledge, information and expertise.


Refine your news feed
As is inevitable with having a lot of connections, you may find some profiles provide no real value and drown out content you actually want to see. You can fine-tune your news feed by
adjusting who you follow
.
Navigate to 'my network', select 'people I follow' from the list on the left, filter by all or by connections and simply unfollow those profiles you no longer want updates from.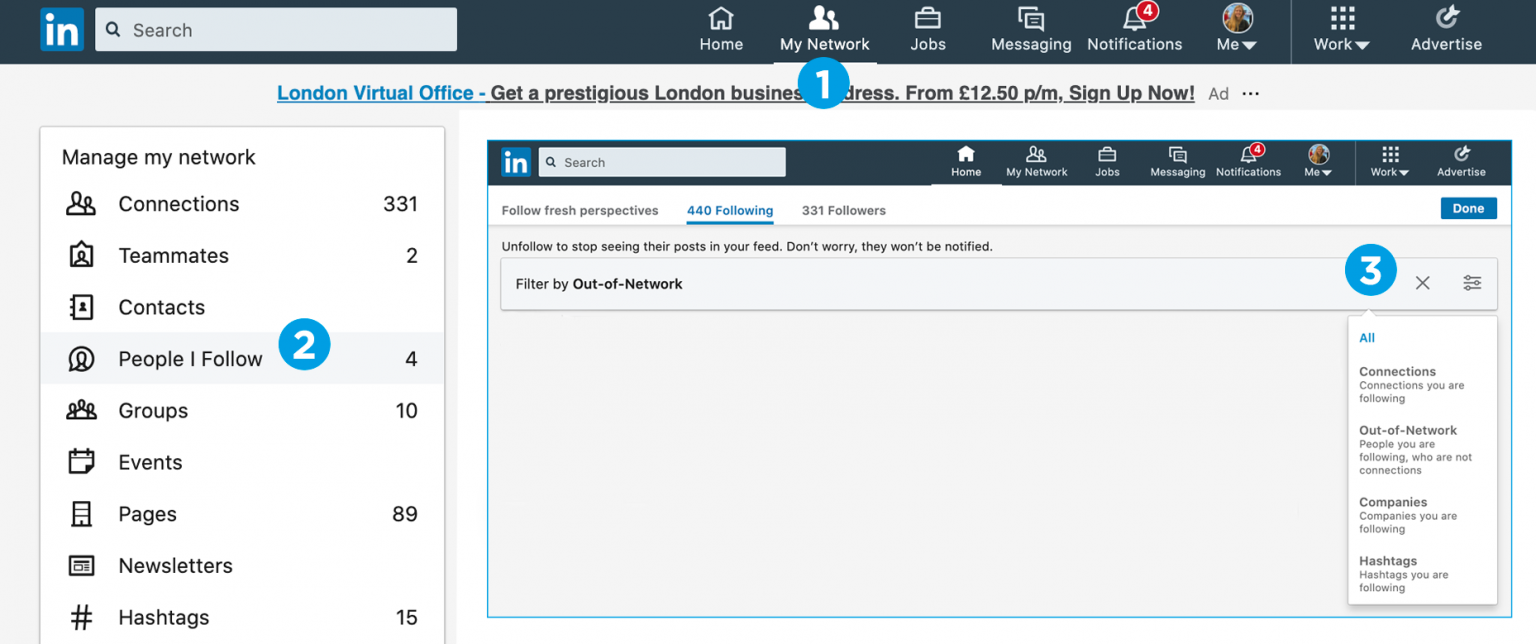 These people will not receive a notification that you have unfollowed them and will still remain your connections, but your news feed will feel decluttered and allow you to focus your attention on the connections that could prove fruitful.

From the 'manage my network' list, you can also refine the hashtags and pages you follow and the groups you are a part of.


Make the most of LinkedIn
As we've explored, LinkedIn is a powerful tool for finding the right people to build relationships with. Be sure to make the most of this strategy to locate and influence your target audience as part of a lead generation campaign.
But remember, it takes time to forge valuable connections. Don't go in with the hard sell – instead form conversations, add value and demonstrate your expertise indirectly. Take the time to make a real impact.
For tips on how to stand out to potential clients on LinkedIn, read
our guide to an effective personal LinkedIn profile
.