20 Jun 2022
Momentum for the Metaverse: Explaining Web 3.0 and Immersive Technologies
As a company that both creates and utilises tech-based solutions on the daily, it's safe to say that we're no stranger to the ways of the Metaverse, Web 3.0, and the role of immersive technologies within them… We've been players in the Augmented Reality (AR) and Virtual Reality (VR) games since they emerged, so exploring the potential new era of the internet and the evolution of the Metaverse only excites us!

In recent years these topics have gained quite a lot of traction… and thrown up some crucial questions for businesses too. So following a talk I led at the University of Derby's (UoD) Inspired Business Networking Event, and the intrigue it received, I thought I'd dive further into the subject and share some insights with our wider community.

So let's talk Metaverse… What is it? What happens in it? What technologies does it use? And, most importantly, how can businesses best utilise it? 
What is the Metaverse?
The metaverse can best be described as a collection of virtual spaces that draw on immersive technologies to enhance both physical and digital realities. Made from a collective of these virtual spaces, the 'verse' itself is not owned by any single vendor, but is device-independent. Created through convergence and collaboration, real-world activities and scenarios are virtually replicated – even as far as possessing a virtual economy. This is enabled with the likes of digital currencies such as Bitcoin for example.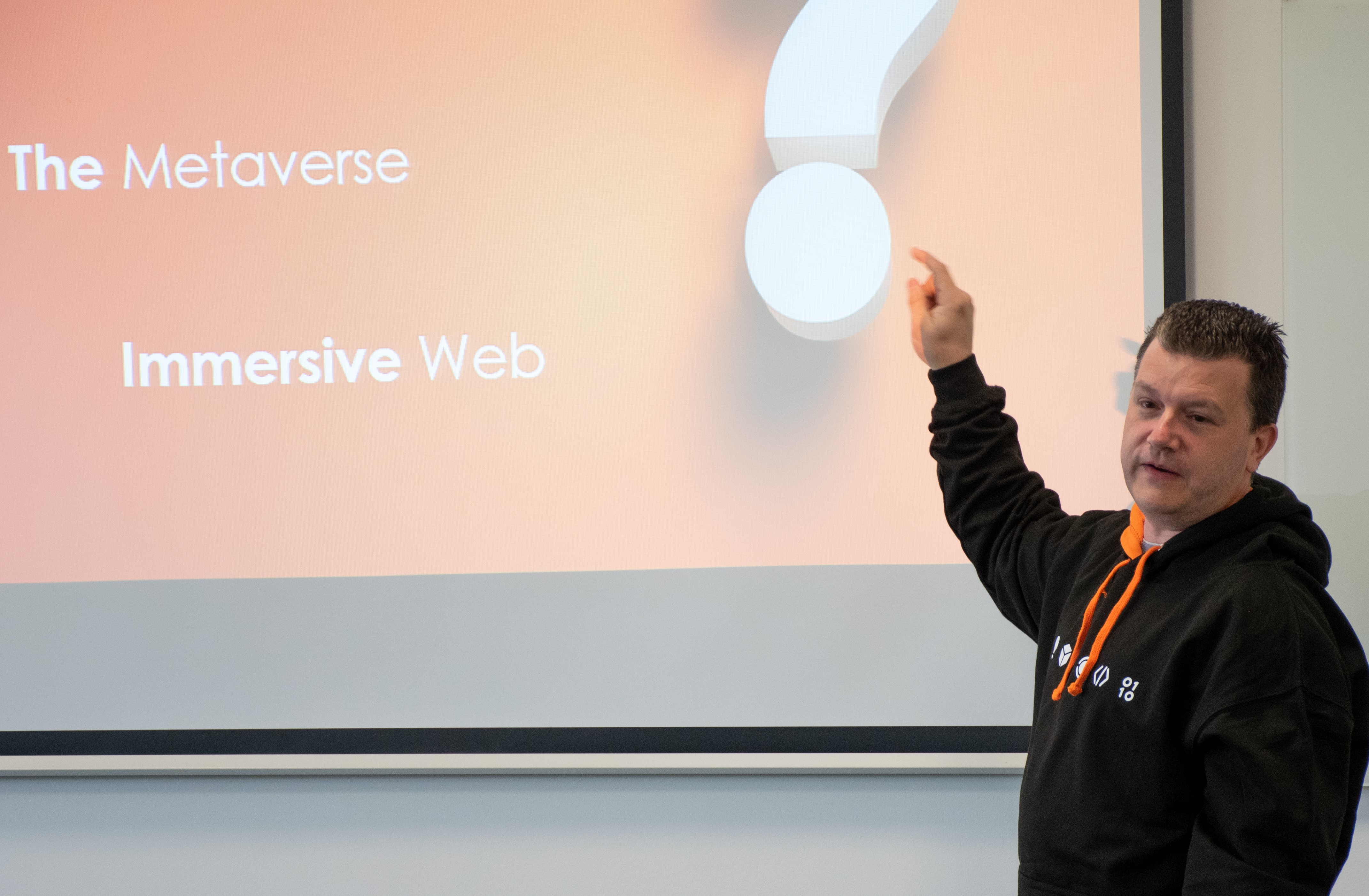 It's not only about extended reality…
Extended reality is a catch all term for computer-generated environments that merge both physical and virtual worlds to literally 'extend reality' and create an enhanced, 3D simulated experience for the user. Otherwise known as XR, it encompasses every form of immersive technology including Virtual Reality (VR), Augmented Reality (AR), and Mixed Reality (MR). By utilising all such technologies – as executed in the Metaverse – the interactions and experiences that can be created are far more immersive and engaging.
But it's not just about the use of XR... It's also about other tech too: Internet of Things (IoT), 5G, Artificial Intelligence (AI), spatial technologies, Head-Mounted Displays (HMDs), and more. Harnessing all these advancements in one place and utilising their potential to produce 'out of this world' experiences is exactly what the Metaverse is all about!


What happens in the Metaverse?
Occurring in isolated environments, the activities that take place in the Metaverse can include the purchase of digital land/real estate, participation in virtual experiences and events, or even a work meeting. The Metaverse is essentially a contextual destination for further, more immersive and interactive experiences – encompassing business, entertainment, and everything in between.

Utilisation of the Metaverse unearths a whole range of benefits. From improved learning initiatives due to the digital replication of otherwise hazardous environments, to richer customer interactions for marketing and sales activities, and the removal of geographical restrictions for events such as concerts… the virtual world uncouples experiences from physical places, bringing with it a host of exciting and unrestricted opportunities.


How does Web 3.0 fit in?
Occasionally misunderstood, Web 3.0 and the Metaverse are not the same thing… Web 3.0 refers to the next era of the internet – this includes technologies like Blockchain, AI, and the incorporation of XR – while the Metaverse is HOW technology advances and the 'up and coming' Web 3.0 era will be integrated seamlessly into our routine lives.


Getting versed in the Metaverse (and Web 3.0)
Web 3.0, like the Metaverse, is decentralised and permissionless. All thanks to blockchain technology, every inch of data on the internet will be distributed and open, yet secure – giving users ownership of their own assets, with free trade the norm.

When it comes to harnessing blockchain for use in the Metaverse, the properties of Web 3.0 mean that through cryptocurrencies (like bitcoin), users can buy digital assets such as avatars, artwork, games and so on.

As a result, over the past year or so there has been a noticeable buzz and curiosity surrounding Web 3.0 and the Metaverse – with many businesses left wondering, how will this affect or benefit us? How can we utilise this tech? And, is it merely a short-term trend? It's important to mention that Web 3.0 is still very much in its infancy, so businesses and industry still have time to answer those questions, as well as adapt and adopt.   
What makes Web 3.0 different to its predecessor?
Web 2.0 is still relevant and important. Grounded by social networks, user-generated content (UGC), digital communications and commercialisation, it thrives on being a THE content-driven environment for the masses. Think dynamic interactions (as opposed to static web pages in Web 1.0), the development of APIs and the creation of the internet on-the-go with portable devices.

In this gradual but progressive period of transition, it is not to be neglected. While meeting the needs of today's customers, businesses can start to prepare and position themselves ready for the technologies of tomorrow: Web 3.0 and the rise of the Metaverse.  
How can businesses prepare?
As is the ethos of Bloc, we are here to help companies harness new and exciting technologies on their shift towards digital… and virtual!

Drawing from our past 10 years of experience in immersive technologies, and our past 20+ in a range of other digital solutions, we have a wealth of understanding surrounding XR tech and how businesses can best utilise it. We recommend businesses do the following to prepare for the Metaverse… 
How can we help?
Immersive technology is making its way into our daily lives. From training to gaming, it offers complete simulation flexibility. Whether for enhanced exploration, anywhere collaboration, interactive education or immersive marketing… XR technologies are offering that next layer of engagement – improving multi-media consumption among all participants.

Since 2000 we've been supporting the needs of industry… first with animations and imagery, then rapidly progressing into the Augmented and Virtual Reality realm. Since, we've been there every step of the way… we're always testing new tech, always creating digital solutions for our clients, and always making XR technology accessible for wider business use!

We welcome any companies looking to embrace the Metaverse with open arms. Simply give us a call or drop us an email…