4 Jul 2022
Virtual production: turning vision into real-time reality
With technology at the heart of Bloc, we're constantly looking to harness emerging and immersive technologies to push creativity and support efficient and effective productions. So recently we've been turning our attention to life in the Media studio – and the development of virtual production.

Drawing on our expertise in content creation, visual effects (VFX), modelling, and an eye for all things digital visualisation, we're bringing our clients the latest in professional production and broadcast - showcasing the true capabilities of real-time, motion capture and hybrid cameras.

Enhancing 'state of the art' studio environments with rich 3D assets, CGI scenes and creative visuals – we're providing the ultimate immersive solution… and viewer experience! 

What is virtual production? 
Virtual is offering a vibrant, bright and strategic future for production. While it's not an entirely new concept, many more in industry are now becoming open to its highly creative approach.

Essentially, virtual production is filming using real-time technology. Growing in popularity, this method entails crafting real-time virtual rendered scenes, created using a games and entertainment engine (like Unreal Engine), and surrounding props and actors with an LED wall, green screen or set. As the camera moves so does the perspective visualised – harnessing gaming technologies to navigate virtual landscapes, scenes or 3D assets. Referred to as "the parallax", this unison of movement and motion between visuals and camera creates the illusion. It's this live Mo-Sys camera tracking that translates into accurate real-time activity.

Virtual production (VP) utilises VFX right from pre-production - unlike traditional means where this often begins as production ends... With 3D digital assets, CGI scenes and VFX capabilities available during both planning and shooting this makes for a continually responsive filming process - enabling those all-important perfect shots in the bag as you roll.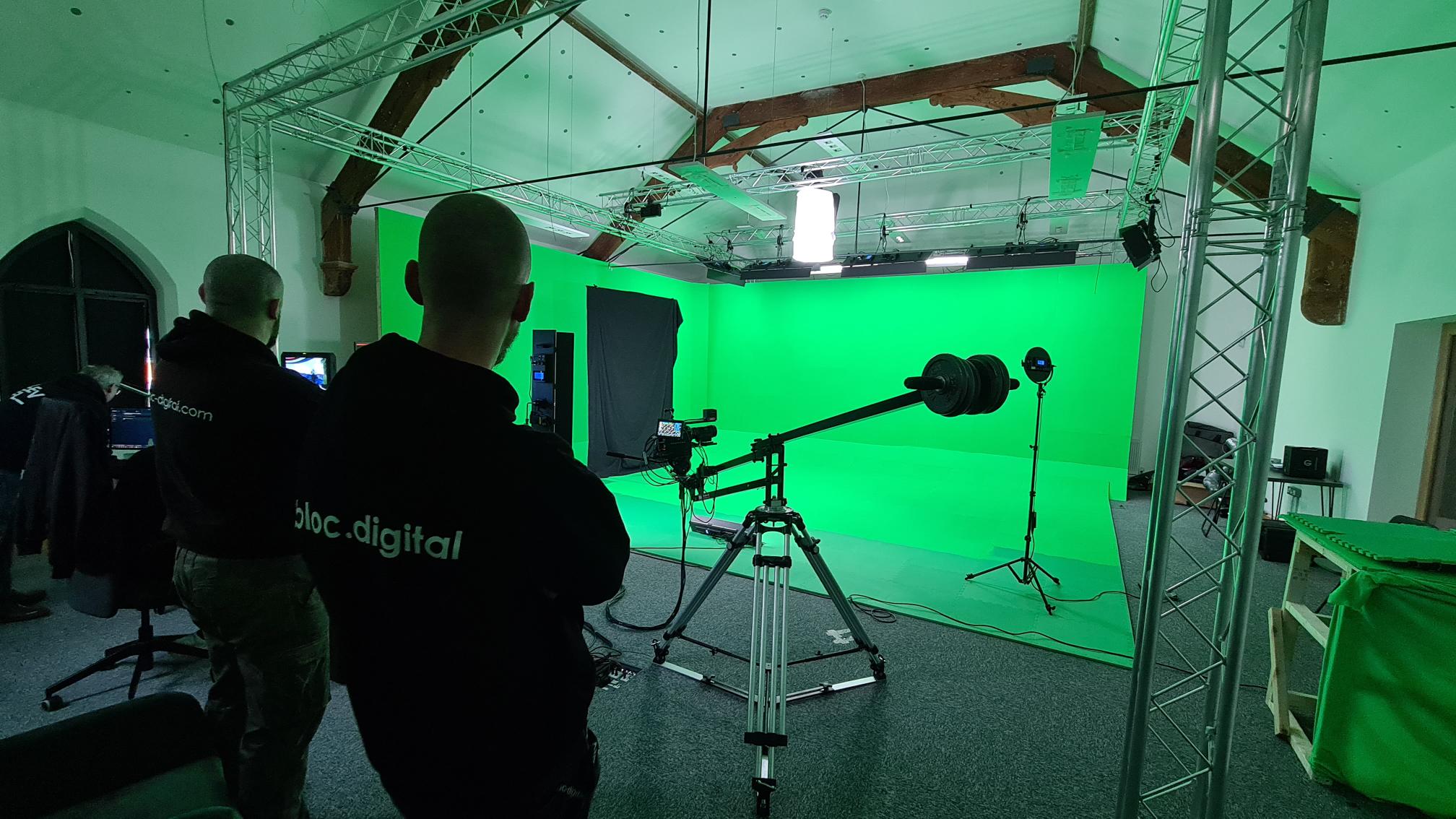 All about the tech...
Why is wider adoption happening now?
Nevertheless, this technique is not just for Hollywood and large scale productions… With an increase in virtual technologies and a wider craving from industry striving to implement immersive, small scale companies and both commercial and corporate sectors are taking great interest.
This is exactly where Bloc Digital come in. As consumer experiences within marketing and communications become even more diverse, our clients in the marketing game also want a slice of virtual! Whether that be for product launches, virtual events, interactive presentations and more.
At Bloc we've been delivering immersive, virtual and digital solutions for the past 20+ years – and recently we've been working in collaboration with local studios such as
LEVEL productions.
We now have the studio space and enhanced camera technology in order to elevate our digital visualisation and VFX capabilities to 'quality-virtual production' status! It's all integral in our ethos towards technology democratisation. 
We predict it's not just a phase...
Driven by creative minds… virtual production has improved, reinvigorated and boosted storytelling - by unlocking visual possibilities and making waves in production. With visualisation now able to span the entire production cycle, anything is within reach! Want your speaker to deliver their presentation halfway across the world perhaps and maybe even in a jungle somewhere? that's 100% doable – and also without the cost of travel! The honest answer: real-time visualise and render it (and don't forget to film of course).

With the scope in this field still growing, virtual production is opening the door to a world of visual wonder – and not just for the big screen. Helping to portray its capabilities and possibilities: here is a whole host of benefits. 

      Make real-time production edits. 
Hybrid cameras enable a preliminary view of filming.
Everything can be shot in one studio – save money on travel and location expenses.
Camera tracking is complete in pre-production so filming can be done as if in a real-world environment.
Ease of filming – presenters, actors and directors can actually see their digital environments, assets and effects… imagination is no longer needed.
The visualisation possibilities are endless – you can visualise and render absolutely anything!
Physical sets, scenes or models don't need to be built… saving both time and money.
How can virtual production make a splash in marketing?
The beauty of digital visualisation is in the power to be as inventive as you like – no concept or vision is too big or too bold. As consumer needs evolve and the ways in which brands capture their attention become more advanced, virtual production finds a comfortable home within commonplace digital marketing and communications practice. In order to stand out from the crowd, companies now need to devise more sophisticated, creative and interactive means of engagement - and with the likes of immersive making its way into marketing strategies – virtual production isn't a great leap but a mere progression.

Demonstrated in our video below, you can see the ease of use and integration within unexpected industries like engineering. Take an engine for example, visualise its intricacies, make it 3D, walk around and rotate the object, incorporate an engaging mix of virtual and real… but most importantly, harness the power of virtual production for communication. Upgrade your usual marketing efforts and make the immersive transition…

Watch our Director Keith Cox at LEVEL studio, demonstrating the visual capabilities and possibilities of virtual production in marketing...


Big opportunities with Bloc Digital and LEVEL studio
Our specialist Media studio has been exploring the wonders of green-screen virtual sets with the LEVEL. Combining 3D graphics/assets and videography in real-time means exciting immersive productions are possible! We predict huge opportunities for our clients – not just in terms of creative marketing outputs but corporate communications, events and conferences and product launches too. Whether it be to accelerate your training delivery or give your animation that competitive edge, virtual productions offer that next step in viewer engagement and help transition your company into a new virtual age.