Engineering, Learning, Technology: Back to our roots with Steve Bentley
Taking it back to our roots… we spoke with our Head of Sales and Solutions Development, Steve Bentley, to discuss the progression of our specialist Engineering, Technology, and Learning studios!

Steve has been with Bloc Digital for the past 10+ years – and in that time it's safe to say he's seen an incredible number of projects fly through our doors. Taking a trip down memory lane he reflected on Bloc's latest evolution.


Let's get into it...
EXPLAIN THE IMPORTANCE OF BLOC DIGITAL'S STUDIOS: ENGINEERING, TECHNOLOGY, AND LEARNING…
Bloc Digital has always served the needs of industry, From aerospace clients like Rolls-Royce to clients in Pharmaceuticals like GlaxoSmithKline. While they're both in different sectors they both operate within an industrial setting – their needs largely revolving around a product's lifecycle and the introduction of technologies for smarter production, analysis, and optimisation.

We've been developing digital solutions for these types of requirements for the past 22+ years, so it felt only natural to create specialist in-house studios to provide a more tailored, expert, and industry-focused approach to working with us at Bloc.

WHY DO YOU THINK IT WAS IMPORTANT THAT BLOC EVOLVED?
I feel it's an evolution that needed to happen. We know our clients, and we know their expectations. By creating persona-driven entry points for both existing and new clientele, we hope that provides them with the information, services and solutions they require straight off the bat – working to improve our offering and how we present it.

Engineering is focused on industry, Learning is aimed at any sector with training needs and Technology is at the core of everything we do at Bloc Digital – it's Technology that works to harness, develop and reinforce our digital solutions. Whilst we have separated our services into specialist studios, it's important to make sure our clients don't feel restricted – all our in-house studios continually collaborate and create together… all bringing a different set of expertise to the table!


Bloc Engineering
FIRSTLY, TALK TO US ABOUT THE ENGINEERING STUDIO…
Engineering
is our most sector-specific studio. As it says on the tin, it's for our engineering clients… Due to a large volume of our portfolio (and growth) being accredited to this field, we've gained huge traction in this area – always drawing on our Technology studio for development and hardware support to produce capable and scalable solutions.
Services within this studio are tailored towards the digital adoption and growth of industry operation and practice. Whether your manufacturing requires a digital twin and accompanying IIoT dashboards for better production efficiencies, your product could benefit from sales and marketing materials, or your shop floor personnel need maintenance and repair support with the help of instructional applications – we develop bespoke deliverables complete with custom features and researched designs to improve and evolve those in industry.
TELL US ABOUT A PROJECT THAT YOU FEEL SHOWCASES WHAT OUR ENGINEERING STUDIO IS ALL ABOUT?
A project for Nordson is the first that comes to mind – especially as digital manufacturing and Industry 4.0 are playing such a large part in the evolution of today's engineering landscape.
Based in the US, Nordson is one of the largest Powder Coating Manufacturers.
The addition of IoT Gateways enables the collection, storage, analysis, and display of usage data. Historical data gathered is stored in data lakes for the crucial monitoring of aspects like equipment life span, machine faults, required powder coat recipe modifications, and the forecasting of predictive maintenance. On the other hand, real-time data capture is compiled within dashboards. Both forms of data arm factories with the ability to transform their approach to routine maintenance, from reactive to proactive – resulting in less material wastage and huge cost savings.

The perfect example of this solution's functionality is the inspection and component tracking of spray nozzles. In a single spray booth there can be several nozzles and, according to usage, all can be at different stages within their lifespan. In order to keep on top of maintenance and manage optimal machine usage, with the help of IIoT solutions Nordson is now able to continually detect machine failure in real-time and carry out efficient predictive component changes.

By introducing A.I. to this model, Nordson could progress from its existing digital shadow to a responsive digital twin.


Bloc Learning
SUM IT UP: WHAT DOES BLOC'S LEARNING STUDIO DO FOR ITS CLIENTS?
Our
Learning studio
designs, produces, and delivers bespoke courses, resources, and support materials for self-paced, immersive, and classroom-aided learning. Whether purely online using SCORM/XAPI standards or part of a blended strategy, we aim to help people improve skills and impart knowledge.
WE KNOW THAT BLOC STARTED WITH A FOCUS ON DELIVERING IMMERSIVE TRAINING TOOLS, HOW HAS THAT DEVELOPED OVER TIME?
eLearning wasn't the same as it is now – it's certainly come a long way during my time at Bloc Digital! It's far more advanced, accurate and effective, even to the point that many industries now favour its method – saving them considerable time, money and resources.
Tapping into the benefits of AR and VR, it's no secret that a majority learn better with the assistance of visual tools – whether that be to demonstrate procedure, envisage a component, or otherwise. With additional layers of interaction in a user's reality, they encourage hands-on participation… and with replications of real-world environments in VR, they also reduce any risk of potential hazards.
Our Learning studio covers much more than immersive… we also produce platform-agnostic courses and presentation materials – utilising the latest gamification philosophies to help information retention among users.
CAN YOU THINK OF A STANDOUT PROJECT FROM OUR LEARNING STUDIO?
QMS (Quality Meat Scotland)
is a 'prime' example of gamification in use. Essentially, it's an interactive web-based learning resource created to help users explore the red meat food system in Scotland. Targeted at young students, our team crafted an educational game with a 'choice and consequence' style approach… the intention being to encourage the making of more sustainable food choices. Bloc provided a complete end-to-end service, from concept and storyboard right through to social media marketing animations.

In order to convey an otherwise 'tough to discuss' topic, our UX & UI team devised the ideal narrative, accompanying graphics and interactions – taking the audience on a journey through researched user flows with informative impact. The primary purpose of the game is to understand how sustainable your hypothetical farm would be! In collaboration with meat-industry experts we devised engaging gamification components – timed challenges, question and answer elements, and action-required scenarios with corresponding and realistic consequences.


Bloc Technology
IN A NUTSHELL, WHAT IS BLOC TECHNOLOGY?
Our
Technology studio
feeds into pretty much everything, and every project we do – it's home to our UX & UI, immersive, development and data capabilities. Just as we have our roots firmly planted within industry, they're deep-rooted in technology too.
Our Technology studio is not a sector-specific entry to our company nor our offerings. We believe in the wider adoption and affordability of technologies for industry – whatever the industry. With dedication and commitment to innovation, we develop and provide digital solutions that ultimately help businesses to work smarter and with better efficiencies… delivering visual impact with enhanced interactivity – all supporting improved communications.
TELL US MORE… WHAT IS IT THAT'S PROVING MOST POPULAR AMONG OUR CLIENTS AT THE MINUTE?
It's all about engagement and interaction… It could be because we're now post-pandemic, but I also think it's because businesses are very much on the path to improved compatibility (and therefore reach) of their communications. Web 3D is a technology concept that I would say is currently leading the way for enriched interactivity for both B2B and B2C scenarios. As predicted in
our Tech Trends for 2022
, there has been an increase in demand for 3D visualisation of real-world environments and objects experienced through the web. WebGL is the technology we utilise. Making experiences accessible through a web browser on any device, it's showing huge popularity with product demonstrations and interactive platform showcases.
FOR A BETTER UNDERSTANDING OF HOW THIS TECHNOLOGY CAN BE UTILISED, COULD YOU GIVE US AN EXAMPLE OF WEB 3D IN USE?
I can name a few really good examples actually… I'd say the WebAR we did for the University of Derby's open day provided an inspired and rich 3D experience for its visitors. Inovance was another great one that took their product collateral to the next level, and General Dynamics are also utilising this tech – upgrading their current interactive virtual experiences for compatible web delivery.
University of Derby's WebAR leaflet showcased a combination of both traditional and immersive marketing in practice. Accessed via a QR code, users were given a visual and audio AR experience that was augmented over top of their campus map – providing an informative and memorable interaction for potential university goers.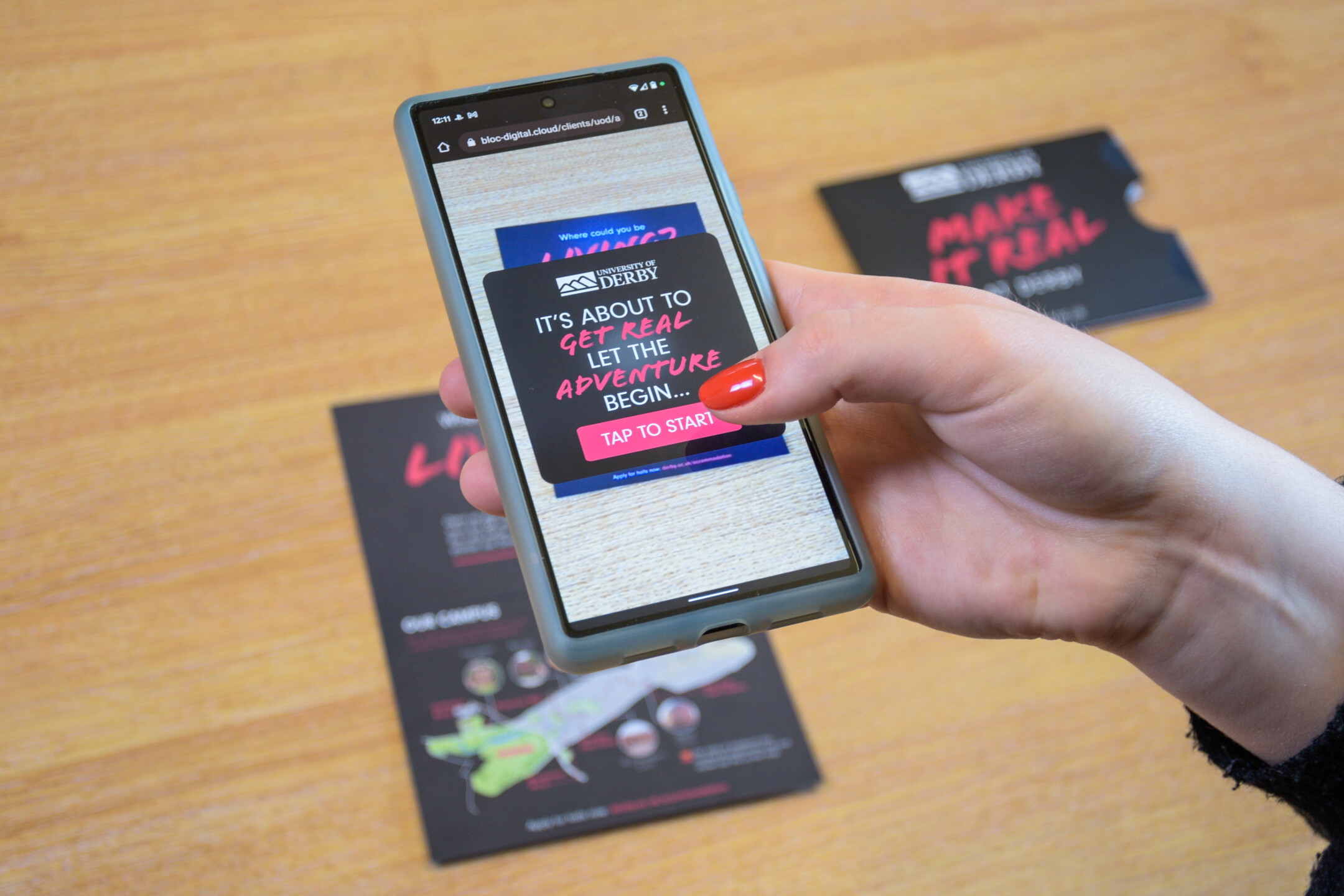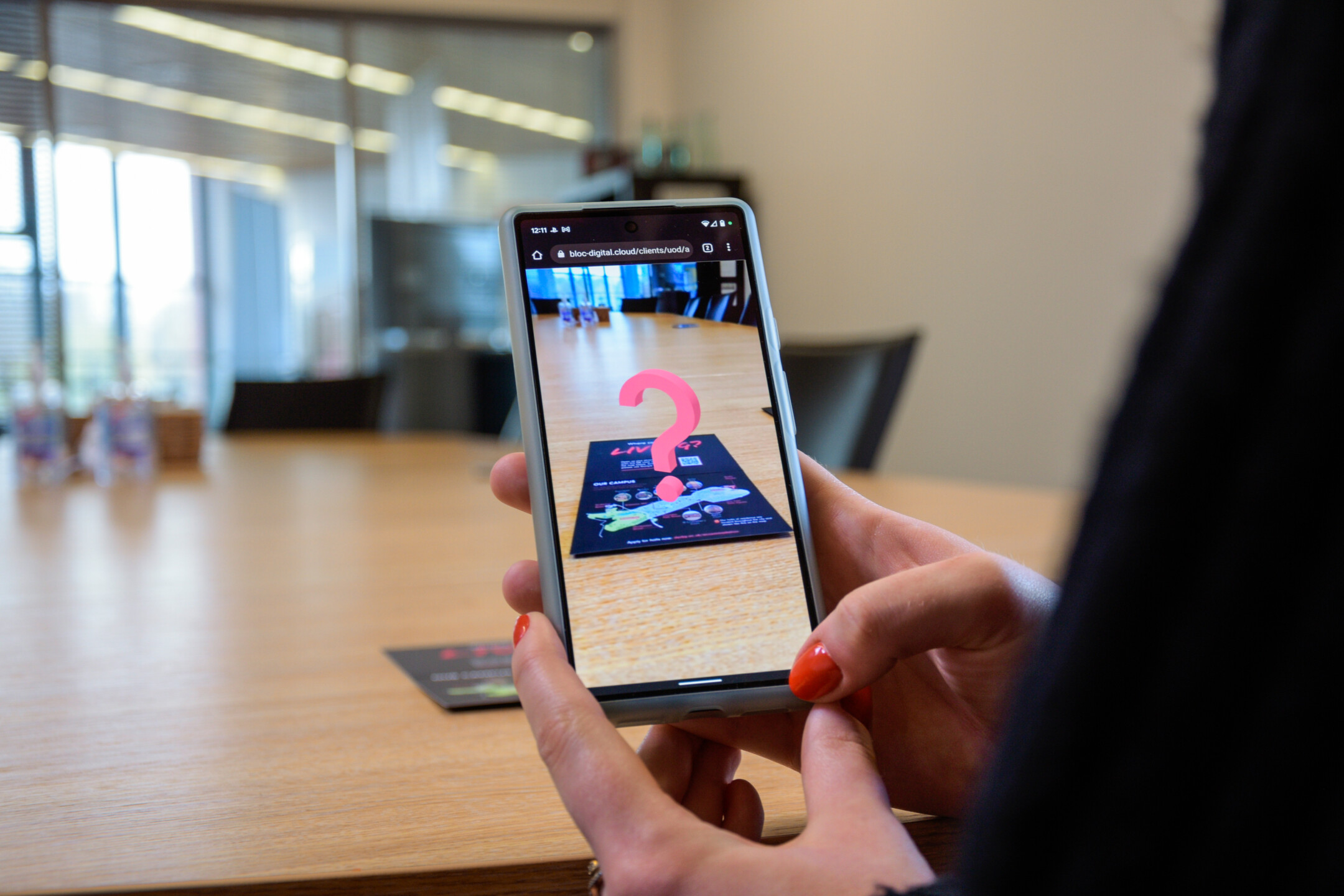 Inovance
elevated their existing approach to sales materials with the addition of a 3D product visualisation. Their MD800 compact AC multidrive was given an impactful launch with an informative and responsive product tour.
General Dynamics
are upgrading their
virtURL platform
experiences, harnessing the power of Web 3D to provide cross-platform compatible advancements. WebGL is enabling them to present engaging experiences with better delivery speeds, reduced asset production time, and most importantly for the user… increasing their accessibility.

All of these offer gateways to increased engagement – helping sales, aiding marketing, improving stakeholder communications, but also demonstrating the next stage of tech adoption among the masses.


Let's wrap it up!
ANY FINAL THOUGHTS STEVE?
Not only is it great news for us but most importantly it's beneficial for our clients… we want them to have access to the best, most focused and specialised expertise. It all comes back to that one initial aim – improvement and progression. Especially improvement of choice when it comes to services, solutions, and products… we want to keep things current, creative, and most crucially, innovative!

The evolution of our branding and the new website has been exciting for us all at Bloc Digital – it represents another stage of growth and another benchmark reached. We must be doing something right.