Print is not dead, long live print!
When it comes to choosing between web offset, litho and digital printing techniques, here's what you need to consider…




"Print is dead." This is a statement we have heard a lot in recent years, but the numbers disagree. The UK is the world's fifth largest producer of printed products and it's print industry sees a turnover of around £14 billion a year. The industry as a whole is very much alive and kicking.

However, over the last 40 years we have seen a few changes in the industry landscape. Since 1976, when we first entered the creative and printing industry, web offset and litho printing processes have slowly been taken over by digital printing. But what does this mean for your business?


THE CHANGING FACE OF THE PRINTING INDUSTRY
During the last decade, digital print has become an increasingly important part of the print market. Digital printing currently accounts for 17.4% of the total marketing output, rising by 3.9% since 2014. The rise of digital printing is reflected by the displacement of web offset, litho and other analogue printing processes.

Digital printing is on the up as changing business trends mean that companies are looking for a faster turnaround and need to incorporate variable data – and this is something that digital print provides.

Digital printing works using electrostatic rollers that apply toner onto the paper. This method allows computer files to be sent directly to be digitally printed. Litho and web offset, on the other hand, require metal plates to be made prior to the printing process itself. As each plate has to be produced before printing, these techniques have a longer set up time and higher setup cost.



However, just as radio stood the test of time during the emergence of video, the need for litho and web offset printing is unlikely to die out. These printing techniques offer an entirely different set of advantages over digital printing.


SO, WHICH SHOULD I CHOOSE? THE ADVANTAGES AND DISADVANTAGES OF DIGITAL, WEB OFFSET AND LITHO PRINTING
There are various pros and cons to every printing technique, meaning the method you should choose largely depends on the specific printing job. Here are some considerations: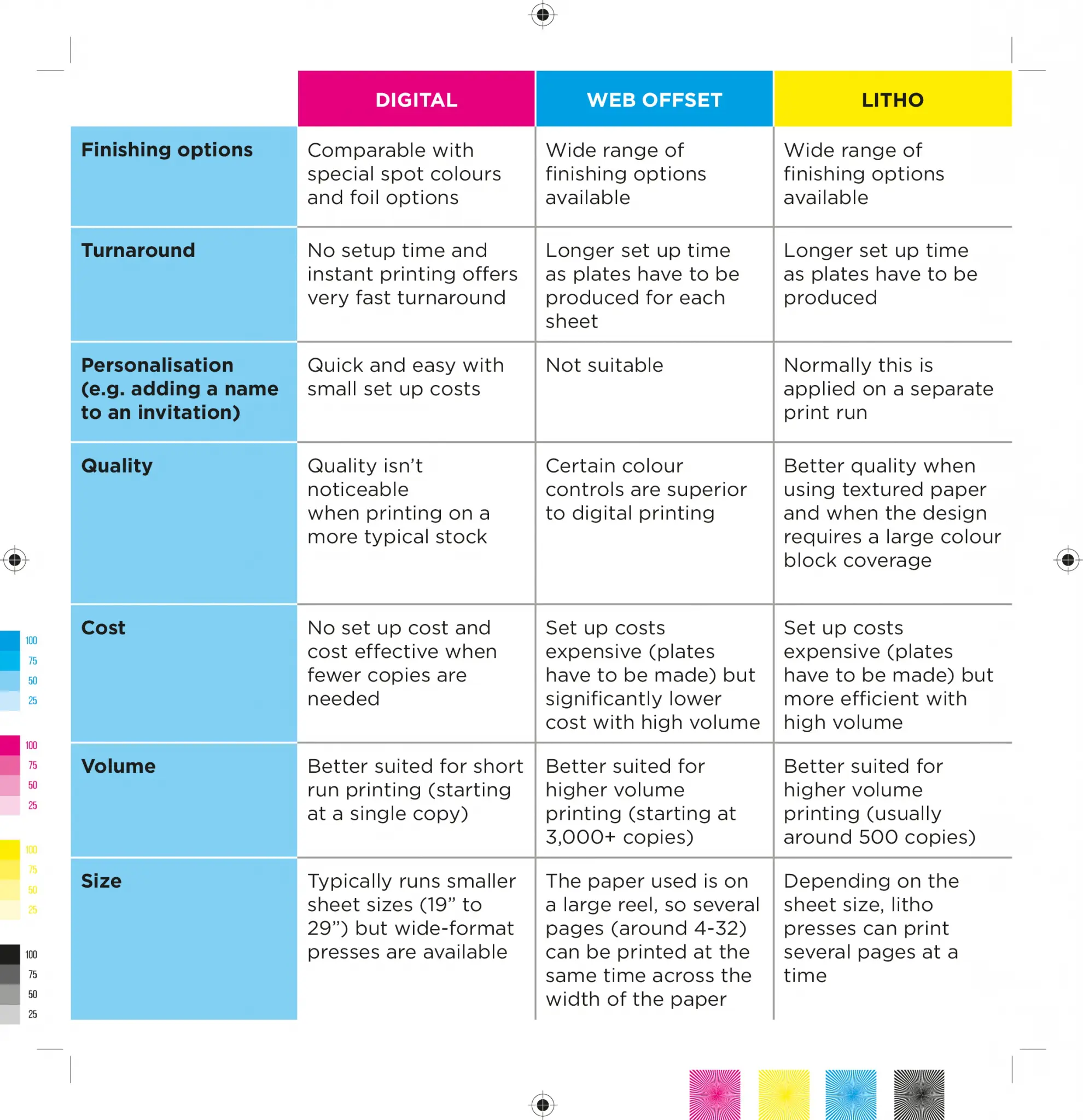 When it comes to choosing a printing technique, you need to consider the quantity of the print, the turnaround time, the number of copies, any special colour requirements, the type of paper you require, and your budget. This should help you identify the printing technique that is best suited to your project.



If you have a print requirement in mind that you would like us to manage or help with, feel free to get in touch. As experts with over 40 years in the printing and creative industry, we will be happy to help!