3 Nov 2021
Sustainability Spotlight: Innovating the path towards sustainable business growth
To limit the global temperature rise to 1.5°C, the world needs to work together to half emissions over the next decade and reach net zero by 2050. That is the goal at the forefront of minds as world leaders continue to gather in Glasgow for the long-anticipated
COP26 summit
.
This week the UK's Office for National Statistics revealed that over
three-quarters of residents
– more people than ever – were concerned about climate change in March 2020. As environmental awareness grows, businesses are also under pressure to pursue green ambitions with the engineering and manufacturing sectors a particular focus.
Embedding sustainable practices into the fabric of a company, and moving away from take-make-waste culture towards a circular economy, means tackling all aspects of business and the value chain – infrastructure, technology, supply chains, product and service lifecycles, general operations, logistics and more.
Innovation and pioneering industrial advancements are the core of this change… and so too is communication in bringing customers on that sustainability journey.
Ben Sharp, Head of Operations at Bloc Digital, explores how we're supporting businesses to tackle this multilayered sustainability challenge with long term, process-focused solutions as well as how we're reducing our own environmental impact.
Supporting the industry transition
Since the Paris Agreement in 2016 it's become increasingly clear that the world needs to move from 'aspiration to action' – together. And from communications to operations, our digital visualisation and immersive tech studio is playing a part in that change.

Providing a full spectrum of support, we're not only enabling clients to showcase their sustainable advancements through engaging media but are driving sustainability through innovation – helping them put plans into action by pioneering technology solutions for industry. We're developing virtual environments that reduce the need for travel, harnessing Industry 4.0 data to optimise the processes of our manufacturing sector clients, and with digital at our core, are mindful of our own operations too.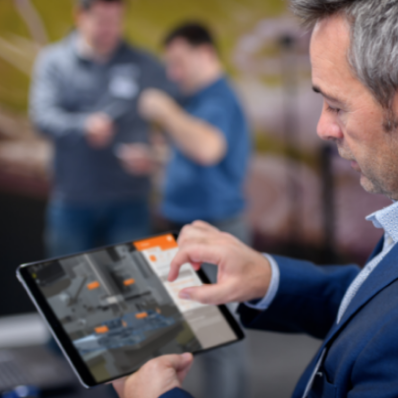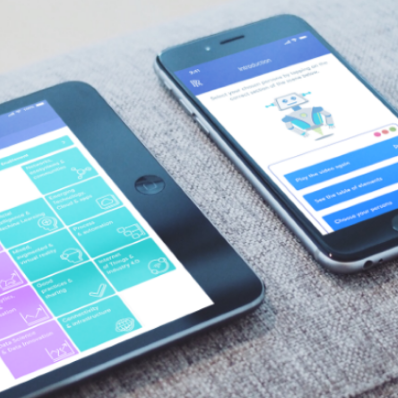 IIoT and Industry 4.0
At Bloc HQ we're less than a mile from Derby's
Silk Mill,
a UNESCO World Heritage Site widely regarded as the world's first factory and a crucial step in the first industrial revolution. The fourth industrial revolution, known as Industry 4.0, relates to the digitisation of manufacturing. Smart and autonomous systems fuelled by real-time data and machine learning are providing the 'factories of the future' – and we're supporting clients to create efficient, optimised factories by harnessing their data to improve manufacturing processes.
A great example demonstrating how is our research and development involvement in the Innovate
UK-funded UltraMQL collaboration
. Together with leaders from academia and industry, we are developing an environmentally-friendly and efficient lubricant system harnessing ultrasonic technology to precisely deliver the minimum quantity lubricant (MQL) needed to cutting zones.
Bringing next-generation data visualisation and expertise to this team, we're utilising digital twinning and advanced IIoT Industry 4.0 technologies to create virtual representations of the factory. Advances in manufacturing processes and production management mean engineers can improve and manage assets in real-time without physical modelling or costly production stoppages.
Contributing to improved lifecycle management (LCM), this research will not only help to decrease costs due to greater oil volume control – cutting running figures by up to a half – but, has the potential to deliver a wealth of advantages. It will work to reduce energy use by up to a fifth, alleviate challenges associated with lubricant and machine maintenance, reduce health risks to machine operators and support quality control management and consistency – all resulting in more efficient use of resources and minimal waste.
Going virtual with training
As COVID-19 accelerated the need for remote operations and communications,
the virtual world was thrust into the spotlight
– and now those adaptations are supporting businesses to meet sustainability goals.
Allowing learning in high-risk scenarios, enabling interactivity and improving consistency, the digital nature of Virtual Reality (VR), Augmented Reality (AR) and eLearning solutions provides numerous advantages – but of particular importance to sustainability is the removal of geographical restrictions.
As well as reducing the need for printed materials, virtual training tools are enabling access to environments previously limited by location, time, or even budget or safety requirements. Learning can be delivered at distance, scale, and speed as a result.
Breaking geographical barriers was crucial during our project for GlaxoSmithKline. Harnessing VR for operational training, GSK were able to train French employees from their UK site ahead of the opening of a new European facility. The virtual production line not only facilitated employee up-skilling and engagement in an immersive, realistic, safe environment, but streamlined the training process for the multinational pharmaceutical industry leader. Training can be delivered remotely, with savings in cost, equipment resources and travel that would otherwise be needed.
Going virtURL
Another example of the virtual world supporting remote communications and sustainability is through the development of our first product –
virtURL®
.
Born out of COVID-19, virtURL took events and product showcases virtual, enabling organisations to communicate with customers and colleagues with engaging real-time interactions when our world was physically restricted. As we look towards a hybrid future, the virtual platform continues to deliver advantages. Whether for sustainability – reducing the need for travel – or reaching worldwide audiences and, in turn, growing into those markets cost-effectively, virtURL is helping our clients deliver product demonstrations anywhere, and at their convenience.
Such virtual environments are enabling defence industry leaders like
Marshall
to support their internal and external communication needs. The online-offline synced showrooms facilitate global and effective product showcases – including during
Marshall's hybrid DSEI presence
– and can be easily updated for future use.
Virtual, real-time interactive product demonstrations not only promote participation but also cut the cost and carbon footprint of transporting large products to in-person events.
Playing our part
Through Industry 4.0 solutions and taking communications and operations virtual, we're innovating the pathway towards sustainability for our clients – but we're mindful that the digital world is not challenge free.

In a simplistic example, while sending an email has less environmental impact than sending a letter the former still produces carbon emissions, and those emails stack up too.

As a leader in digital visualisation and immersive technology solutions we're conscious of the carbon footprint of our operations as well as the global impacts of digital processes. Since 2019 we have been active in carbon off-setting through a local sustainability tree planting initiative and are proud to have off-set our total electricity use. With 100% of the trees planted locally in the East Midlands, this environmental footprint has also been offset as close to source as possible.


We were also keen to minimise environmental impacts during
the recent relocation and expansion of our business
. Our new HQ is on the University of Derby estate which has a commitment to carbon reduction and environmental management policies, and we have recently purchased our first all-electric car which is available for employees to use for work-related travel.
The global move towards change
Social, economic and environmental or efficiency, resources, waste and emissions – whatever motivates you when you think sustainability, we are all still on a journey of improvement and learning. In this, the engineering and manufacturing sectors have a crucial part to play.

If we take one key objective away from COP26 so far, it's that the world needs to move together to make these improvements and put plans into action as we carve that path to net zero. Innovating sustainability in business, we're proud to be developing virtual worlds and harnessing data and immersive tech to support such sectors in this mission.