30 Mar 2021
Top capture stats for today's home buyers
Providing food for thought...
It's all about providing your potential buyers with; a wealth of content at their fingertips, an enriching online environment in which to consume and supplying them with that all important digital wow factor…

At Bloc Arch Viz … we love a bit of number crunching – the facts and figures that provide the vital insights into the motivations, hearts and minds of the modern home buyer. We have gathered those all-important stats to improve digital marketing outputs and make lasting impressions among potential buyers.

You could say they're the building Blocs of growth!

Real growth though is in sharing these insights with our wider property community – those of which are in this blog.

As we've expressed in our previous blogs, we can't stress enough the crucial importance of nurturing your online marketing channels. We understand they require precious; time, effort and patience (for organic growth) and of course money, however… investing these assets into your long-term digital property marketing strategy will reap rewards. These rewards in the form of; property sales, online presence and prevalence, positive brand reputation & identity, competitive advantage within the sector and popularity/preference among potential buyers. These just to name a few!


The stats you don't want to miss!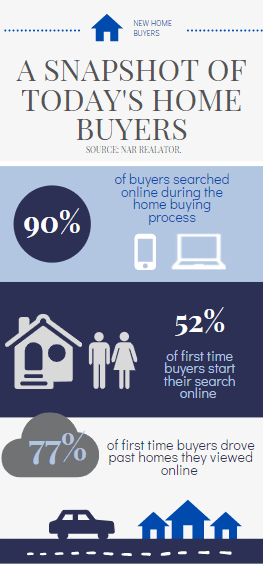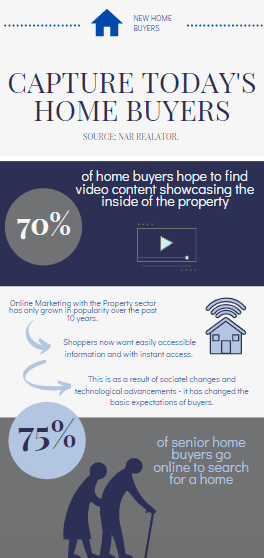 But stats alone don't show the full picture – it's how we respond and therefore harness these insights which is the real key to opening doors.

The bottom line is…these figures show that digital engagement is driving sales.

Online property marketing NEEDS to; utilise digital opportunities to explore inside spaces through video and interactivity, possess an ease of identification and personality from the comfort of the buyer's current home and…be a 'standout on the pavement' for drive-bys.


Digital engagement drives sales
DIGITAL ENGAGEMENT DRIVES SALES
The power of visual excellence is vast and the lasting impressions they create will remain at the forefront of the consumer's mind – not only do they help to sell off plans, but they also help to sell the prospect of the buyer's future. It's as much about providing an emotional connection between buyer and home as it is about conveying the property in all its glory for a wider market. By implementing and using architectural visualisations and CGIs into the visual portfolios of your builds this will demonstrate clear vision and design direction to your audience.
We greatly encourage digital additions within your existing marketing strategies, and with the perfect combination of our
New Digital Property Marketing Blueprint
, our visualisation expertise and these statistics – you're armed with the ideal solution.