AR Environments for public engagement
The arts, heritage and public space sectors are facing unprecedented challenges, having to reposition to connect and crucially re-connect with audiences in the face of coronavirus restrictions.

A growing number of organisations are looking to digital experiences to engage visitors now and in the future. For some it's been about bringing these experiences into our homes, while others are turning their attention to life after lockdown – creating new experiences to breathe new life into public spaces. However the sector is looking to connect, the benefits and impacts of immersive experiences are now more in focus than ever before.

Leading the way is augmented reality.

We've joined forces with our new public facing audience division Bloc Media to provide a quick guide to enhancing your public space and heritage attraction with this impactful and immersive technology.


The fundamentals of augmented reality
Augmented Reality (AR) combines the physical world with layers of digital information and sensory experiences. It provides new ways to explore and move around buildings, examine objects and experience events past and present. It enables us to open up spaces constrained by physical restrictions and access those that could otherwise remain behind closed doors.

AR can be as simple as overlaying a digital image via your mobile phone to your coffee table or as immersive as standing in the great hall of a stately home and witnessing a banquet in full flow.

A key benefit is that it doesn't require specialist headsets or complex programming platforms. It is accessible and mobile.

This ability to explore around and even inside artefacts enables a greater connection, promoting 'thinking' and not just seeing. It's active and, created correctly, it's intuitive and inclusive.

There is little doubt that this modern, engaging and creative digital interpretation drives engagement – but to be truly successful it has to be appropriate, relevant, robust and sustainable.

The key fundamentals are the same as with any content. Know your audience, and with AR, know your location. That's the who, what, why, and crucially, the where and how. Where will your audience interact? How will you combine technology and content to make sure it fits your location? And what experience do you want the user to be immersed in?

There are a number of considerations which would inform the design and functionality of an AR immersive tour or experience app.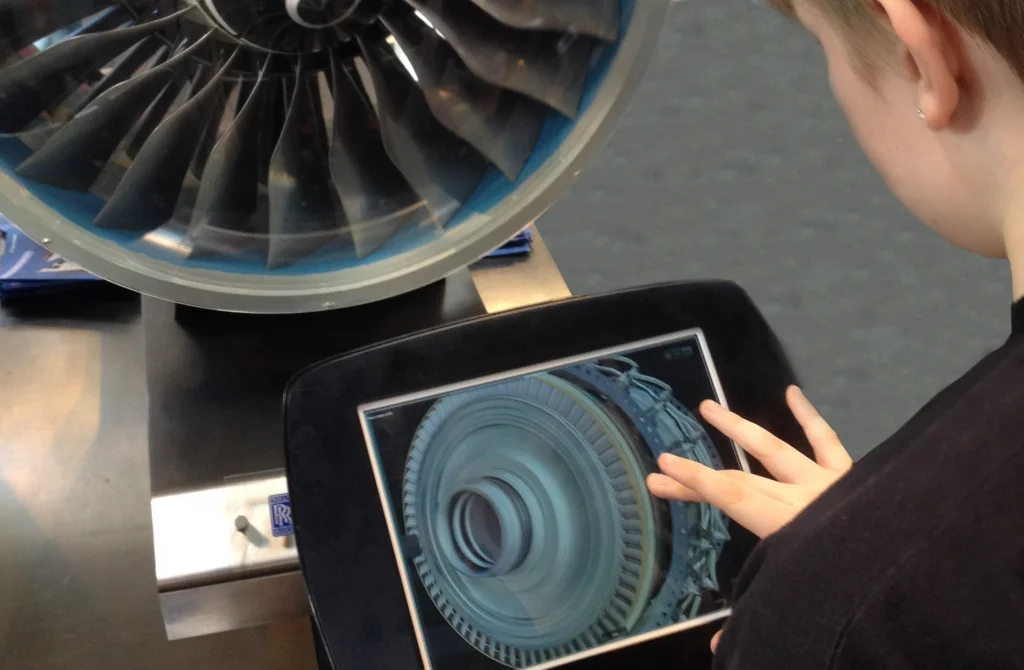 The where: The immersive environment
Interior and exterior locations bring their own challenges and requirements. Outside you have space and scope, however, unless this is a private and controlled space, your user experience can be affected by passers-by blocking or interrupting AR positioning. Similarly you have to be mindful of how your AR experience may impact public behaviour – creating bottlenecks or obstructions.

These were considerations in our recent Bournemouth retail centre project. The aim was to digitally transform a city centre location during the prolonged regeneration of an out-dated shopping centre. Boarding and scaffolding created an eyesore and we needed to convey the vision and ambition of the new development project.

A life-sized AR visualisation of the newly designed retail centre frontage would capture the imagination and attention of the local community.

Identifying multiple optimum viewing positions, we were able to mitigate the impact of other members of the public on the experience and reduce the impact of bottlenecking or obstruction. We developed the app so that image tracking was not required. Activation locations were marked by a floor sticker and on-screen outlines guided the user to correctly position the AR projection over the existing construction site.



With interior environments the very nature of the historic or public space presents considerations, including restrictive spaces, low level lighting and heritage protection measures. The potential to increase illumination and position and install AR target locators in every setting may be restricted. As such, the design of the AR app must be innovative and deliver a first-class level interaction while at the same time respecting the building and heritage protection measures.
The how: Activation technology
Once you know where you're launching your AR experience, next is the how. Whether it's inside or outside your AR has to be activated – investing time in identifying the most effective targeting and tracking technology will pay dividends.

The design and location of targets are a significant consideration as a poorly designed images can give shaky tracking and cause projections to drop out. Some tracking technologies can remove the need for image targets and others will complement existing AR tools.

Depending on the technology adopted a range of benefits can be achieved, including:
Stable tracking (with a high-quality target)
Multiple targets to launch individual experiences within the same application
Precise placement of AR experiences within an environment
Full user control as to where the augmented image / experience is placed
Location 'trigger functions' which automatically make AR activation available as the user approaches the object or location
Above all, the choice of tracking technology will have to meet the challenges of the immersive environment. This is why, rather than an off-the-shelf 'one size fits all' solution, effective apps will be tailored to both the location and content. This does not need to be costly and will in fact avoid incurring multiple iterations of design and testing.


The who: Know your audience
Your AR app should be intuitive, self-explanatory and factor in the potential range of digital and technology skills of users. It should be as compatible as possible across mobile, laptops and static devices.

Similarly, think carefully about how it will be delivered. Is it something you'll require viewers to download to their own devices? In this case you'll have to bear in mind the size of the app.

Think inclusive and accessible – there may be physical barriers to engagement. Successful solutions are designed to meet sensory and physical considerations and can include touch to speak functions and infographics rather than large sections of text. These should be integral to the design and not presented as marginalised add-ons.


Preparing for the wow!
Bringing the who, what, why, where and how together digital technologies have huge potential to shape, enhance and open up new experiences in culture, arts and heritage venues.
As we look to a new future beyond social distancing restrictions, effective augmented reality experiences will balance the benefits, challenges and opportunities of your audience and location at the heart of the design.
Take the time now to explore, assess and test your ideas and inspiration and you will drive visitor engagement and revitalise collections.
If you're looking to open up a new world of wonder and experience at your heritage site we'd be delighted to explore, share ideas and insights with you. Contact Katy Stead, Bloc Media's Head of Production and Content Development by emailing
katy.stead@bloc.media