'Business as usual'... The new normal...
Monday morning and working life has a new look and a different perspective.

We've built our business on adapting and innovation. We've been flexible and future-scoping. In the unprecedented and shifting circumstances of COVID-19, it's perhaps that aspect that has particularly come into its own.

In less than a week we've created a new normal.

Today our entire operations – 3D modelling, animation, immersive tech and web and app development – has transitioned to remote working. That's 50 people, IT systems, VPNs and virtual reality worlds now working across four country boundaries and two continents.

We are team players. Last week proved that time and again – supporting each other, with humour and energy.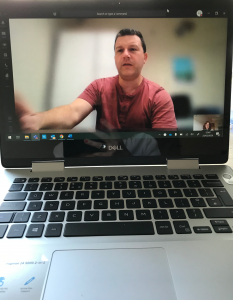 With more organisations moving to wholesale remote working, mobilising communications so that information can be received and new strategies can be formed is going to be more important than ever.


Innovation supporting communication
A key aspect of our work is our ability to pioneer and utilise emerging technologies to create industry-focused digital products, such as training platforms, communication resources, product modellings and more. More recently we've been pulling this technology and capability into a virtual meeting room app.

For our global clients, this shift to the 'virtual world' has been a natural progression but we know that for other, perhaps smaller businesses, this hasn't been a priority – until now. Now they're thrown into trying to establish, fund and implement roll out at a time of significant disruption and uncertainty.

Which is why, as part of our response to the impact of COVID-19 on our wider business community, we've tasked our development teams to explore how our products and capabilities could be deployed quickly and cost-effectively to help keep organisations operating and communicating.


Sharing skills and building strength
Conferences, face to face pitches and training sessions may be on hold – but business still has to continue. More and more organisations will be looking to digital visualisations and interactive communications to help promote service offerings, deliver training platforms and strengthen their markets.

Over the coming weeks our teams will be sharing skills and expertise to ensure you and your visualisations, immersive and interactive projects can be rooted in best practice.

So yes the daily world of work may be changing … but at Bloc we're doing all we can to keep it 'business as usual'. We continue to be creative, to innovate and be connected. To be here for our clients, to reach out to help new partners and to keep their industries working.