21 Oct 2021
Accelerate your marketing with creative and digital tech

A combination of skills creates the ideal strategy
Traditional marketing, digital marketing, and technology use within marketing – all work to enhance brand-to-consumer relationships and ultimately improve customer experiences, interactions and communications. And as the digitisation of our world continues, technology, in particular, is becoming an increasingly powerful marketing tool.

With the industry landscape evolving and developing – making use of increasingly popular technology – not only has there been an uptake in brands using digital and immersive solutions, but there has also been a rise in the need for 'outside the box' creativity. Companies, and in turn their customers and clients, now continuously crave bigger and better – more engaging, more impactful and more effective communications and campaigns compared to their competition.

Powered by creativity and cutting-edge technology, and by utilising our core disciplines, Bloc works in collaboration to capture our clients' audiences – whatever the sector. From developing a brand to captivating its customers through animations, websites, immersive experiences and powerful virtual events, we're putting the power of digital in the spotlight. We explore how it's helping companies to make an impact.


Design: The core of all things marketing
From initial drafted concepts to brand guidelines, campaign themes and everything creative in-between… design sits at the core of everything marketing, which is why it forms the starting point of all campaigns at Bloc. Bringing together the look and feel of all touchpoints – strategic branding, digital design, content composition and multi-media visualisations – it helps provide consistency for your customers and reinforces how your business is remembered within a competitive marketplace.
Holding the key to brand image, good design helps you effectively connect, showcase and sell.
Whether it's creating on-stand materials to display at an event, or an interactive experience to engage visitors there – the visual standards of any marketing materials need to be 'on-brand', eye-catching, and ultimately, fit for purpose. This was no different during our Derby Ram Trail project, where vibrantly creative yet consistent design was key.
Taking colour, imagery, fonts, purpose, placement, audience (and many other aspects) into consideration, our Creative brand design for the public event formed the starting point for all collateral going forward. From printed maps to an interactive AR app, the result was clear, creative and captivating – and helped generate a fantastic level of participation
as the numbers reveal!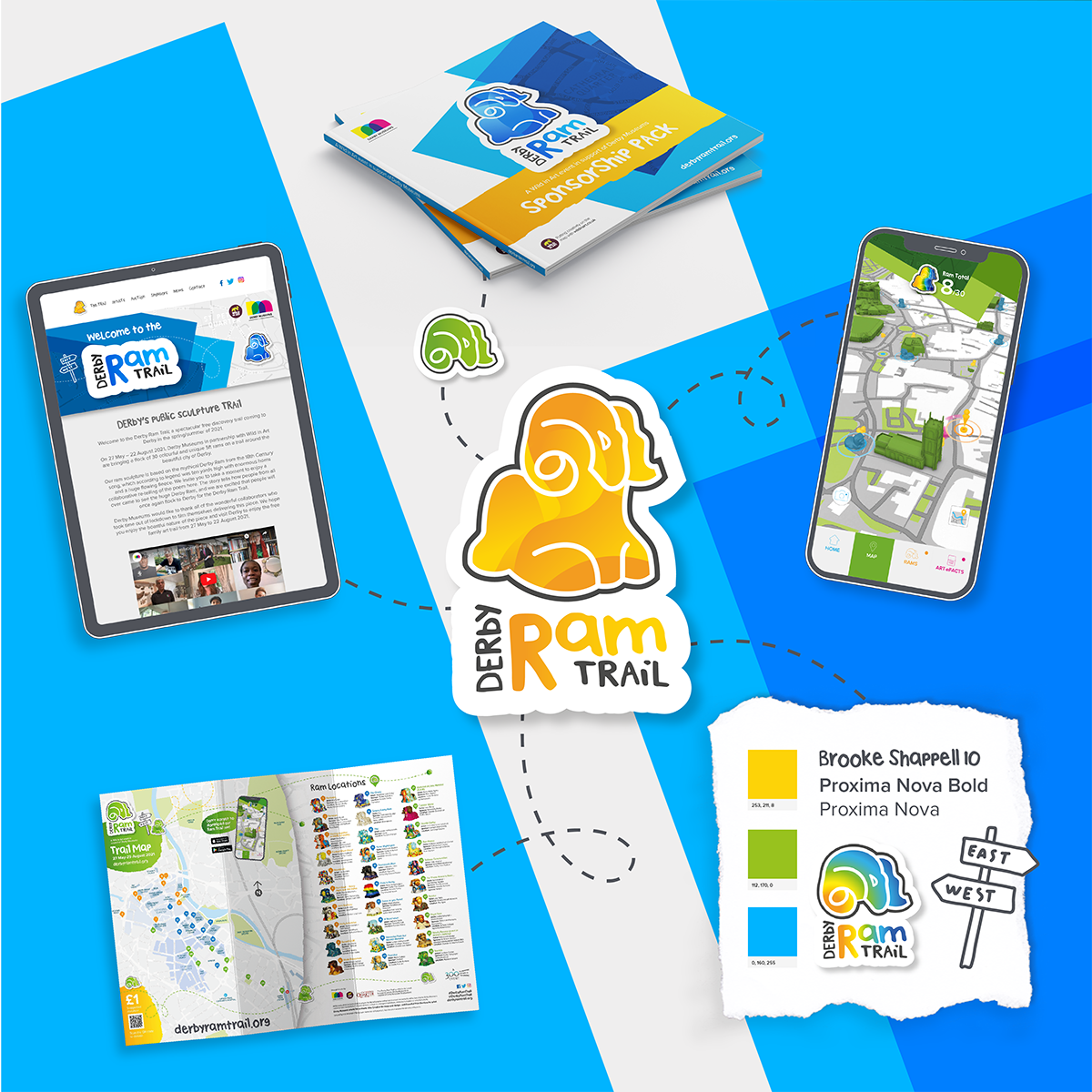 Modelling: Making your mark in 3D
Adding life, depth and context to products, places and promotions – modelling and marketing go hand-in-hand.

With this idea central to their process, our modelling team specialise in the initial creation and re-use of digital assets, enabling a single model to visually enhance marketing campaigns or to be transformed, reshaped and repurposed into many other engaging formats.

Used alone or as a solid foundation for animated adverts and product explainers, interactive and immersive experiences, and visually precise marketing collateral, 3D models can heighten visual communications, enable audience engagement on a deeper level, and provide further connection and understanding.

Realistic visuals help illustrate your proposition – in turn adding more consumption value than text, typography, or photo imagery alone.

Modelling was the next on the agenda during our Derby Ram Trail project, helping to not only visually elevate our interactive app but form the basis of its functionality. Instead of a simple, static 2D map, our team accurately modelled replicas of Derby landmarks into 3D caricatures (think monopoly pieces) to add context, texture and depth – bringing the map to life. They also used photogrammetry, a technique which uses photographic images to interpret information about objects and buildings, to create Augmented Reality (AR) versions of the Rams for the legacy app. The models, therefore, would not only aid the trail's promotion but helped take the interactive trail virtual – leaving a lasting impression as the event left our city.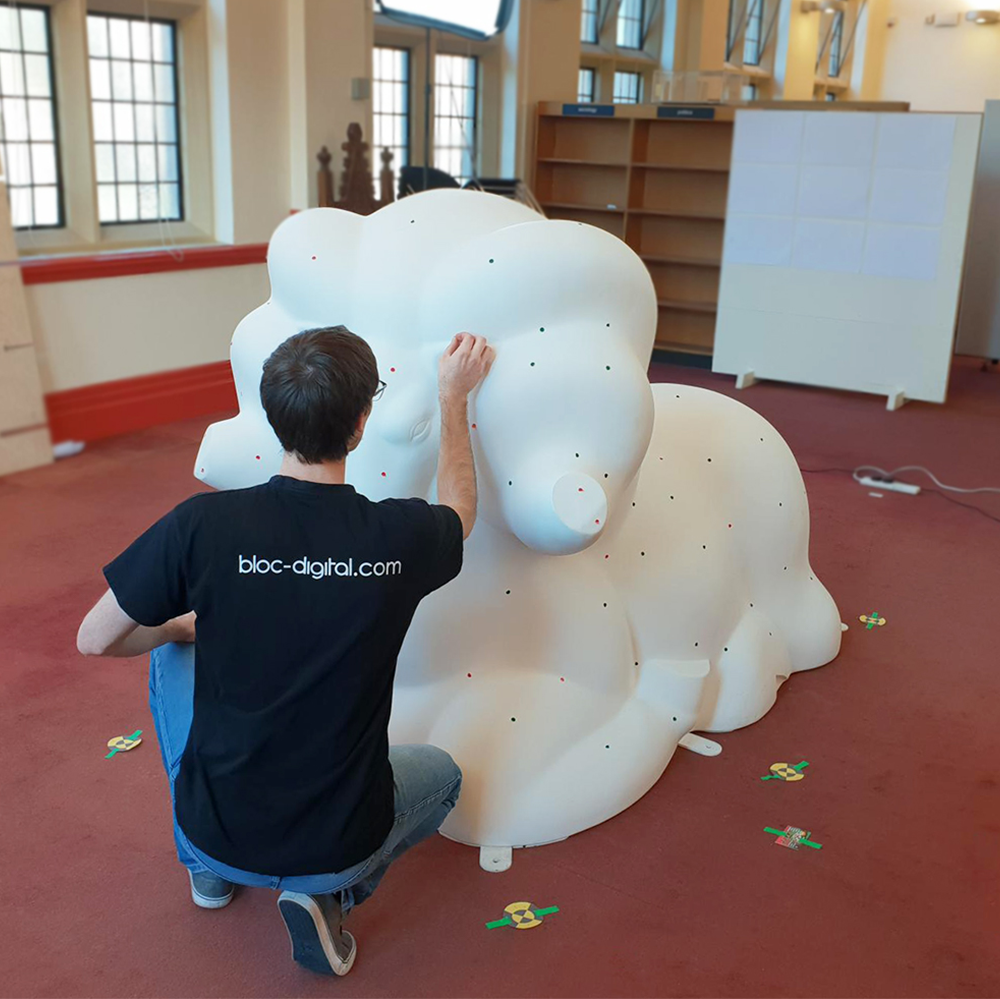 Animation: The power of the moving image
Attention-grabbing, thought-provoking, memorable visualisations crafted for impact and influence are the kind of visual content all marketers strive for. Capturing engagement through your messaging, proposition and brand… that's where animation comes in!
A one minute video is said to be worth 1.8 million words. According to
other studies
, viewers retain 95% of a video's message. Both of these figures showcase how animations enable deeper messaging to be decoded, digested and remembered. Animation is a proven method to boost engagement and impressions.
Our Media studio creates digital visualisations in animatic, cinematic, VFX, CGI and simulation formats for use across multiple platforms and consumer touchpoints. For the Derby Ram Trail's promotion on social media, the moving image enabled us to create both
informative interviews
and styled creative videos. Using UGC (user-generated content) we were able to publicly demonstrate the trail's high level of audience participation.
Getting immersive with marketing
Offering up powerful opportunities for connecting with customers, industry is both wanting and welcoming the adoption of immersive technologies for marketing use. With interactivity at their core, Mixed Reality (MR), Augmented Reality (AR) and
Virtual Reality (VR) technologies
all allow customers and clients to get up close and personal with products and environments – improving awareness, accelerating purchasing processes and giving users more control. With a greater ability to explore through added interactive dimensions, the depth of engagement is greatly enhanced – brands can harness this influence to deliver more personal, memorable and powerful experiences to entice customers and make their mark.
While immersive technology isn't the best fit for all, it definitely has its place in the increasingly digital world of marketing. Example use cases include: product demonstrations,
public space attractions
, architectural visualisation showcases, social media filters and retail configurators, to name just a few.
A prime example of immersive technology in the public space is
our Derby Ram Trail app
. Overlaying digital data onto our real-world ram sculptures, an augmented reality feature exclusive to Bloc's rams added extra layers of engagement, brand presence and excitement. Rotating pyramids, pulsating data circuitry and floating holograms captured users and promoted further interaction.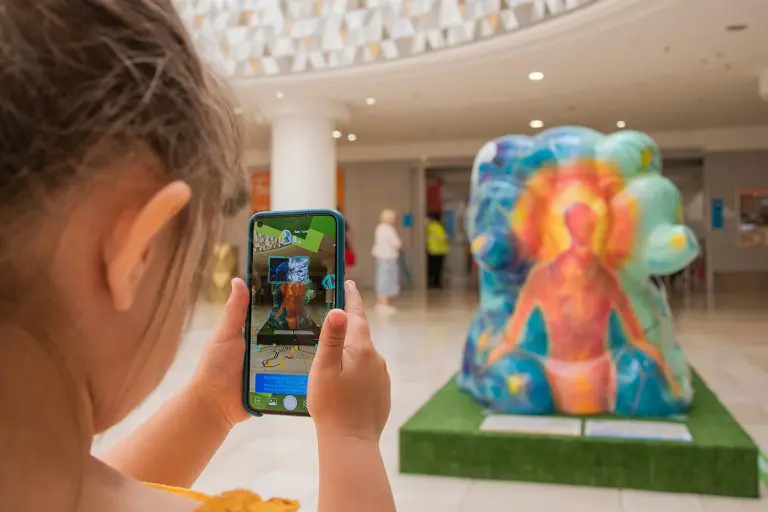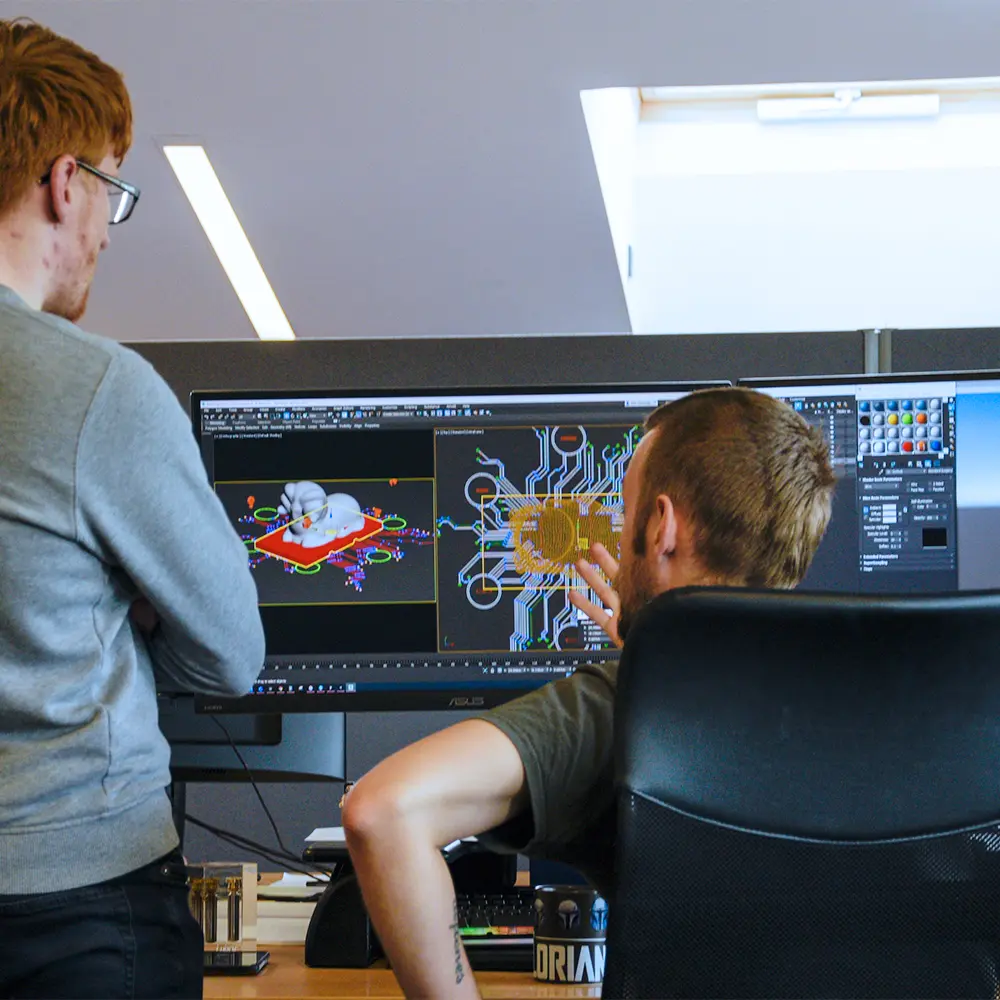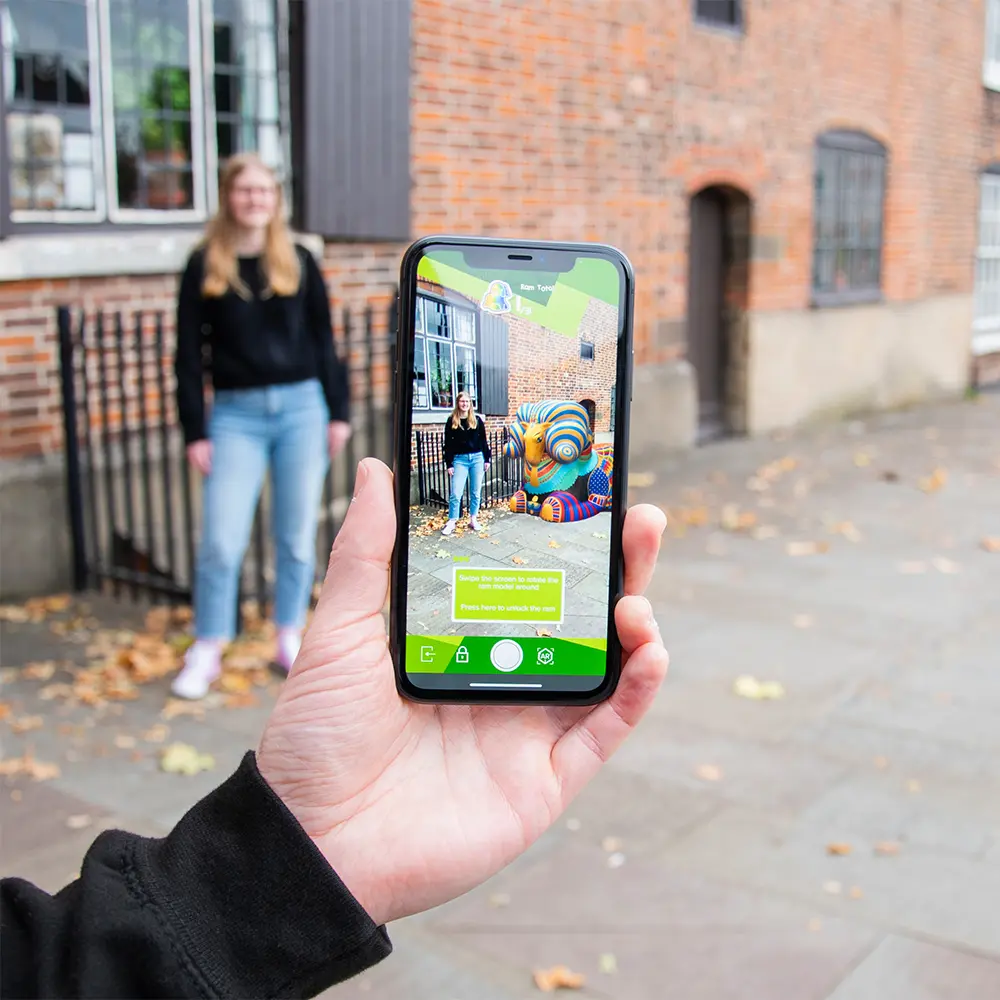 Boosting your online presence with web and app development solutions
Marketing through digital means increases accessibility, grows audience reach and improves brand personability – enabling you to capture your brand essence both on, and offline.
Working in parallel with other marketing outputs, digital development solutions offer up companies, and consumers, many benefits. Web in particular is a long term, scalable and intelligent consumer-facing communication that supports marketing strategies to help encourage interactions, increase traffic, and improve brand visibility – both in the marketplace and in the consumer's mind. Acting as another brand access and conversion point, it provides an abundance of content flexibility for the utilisation and creative ambitions of marketing teams. This flexibility was particularly important during the buildup of the Derby Ram Trail.
Employing micro-interactions and reactive features to enhance the users' sense of involvement,
our Derby Ram Trail app
 would act as a central and engaging hub for all details about the event and its colourful rams as it made its way into the city. Implementing our brand guidelines, it radiated fun and vibrancy but with a modular, responsive design that could be easily updated as the trail progressed.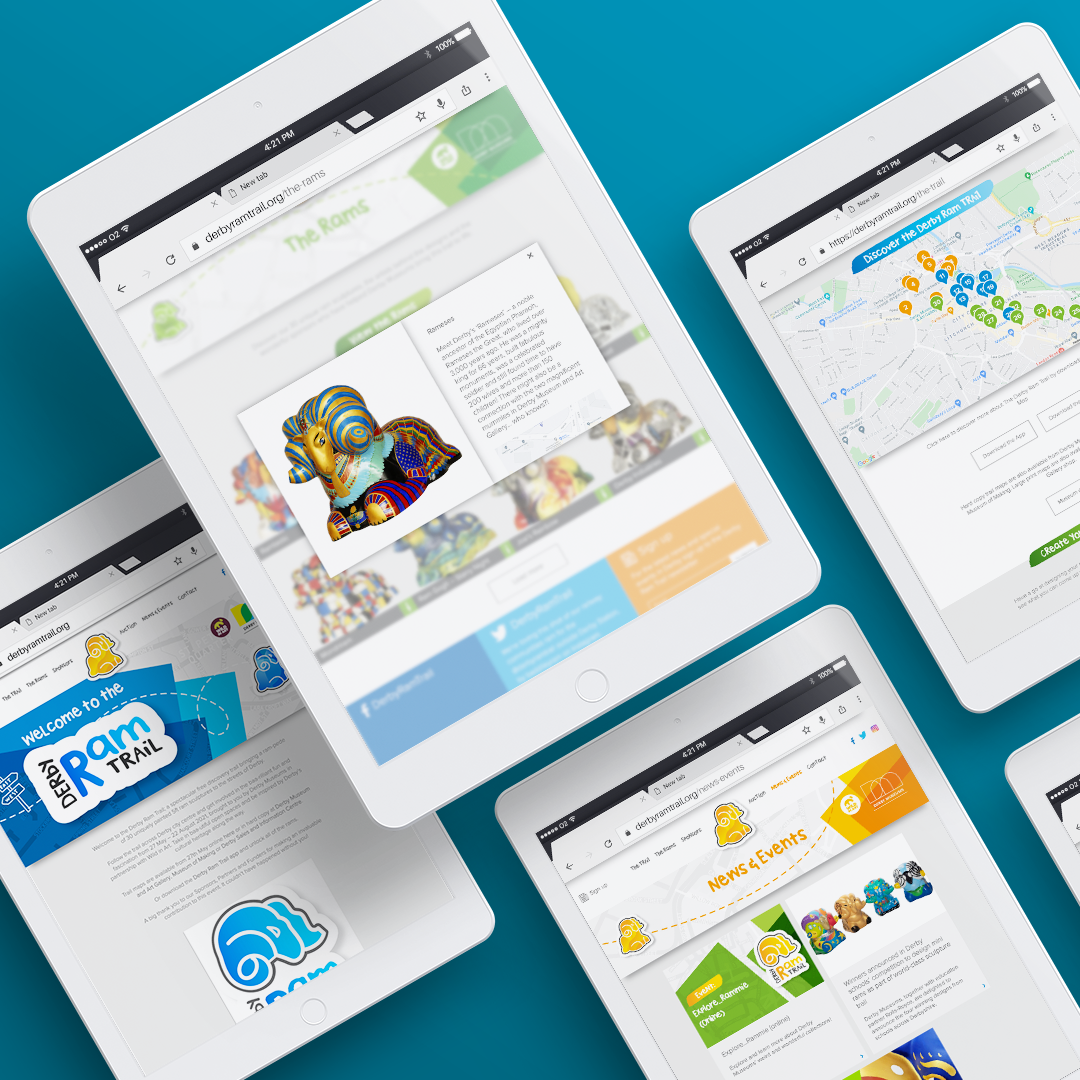 Virtual environments take online presence to the next level...
The growing need for connectivity between brands and their customers, clients and colleagues is evident. As marketers look for long-term, flexible and multipurpose digital development solutions we're taking online presence that one step further… into the virtual world.
Future events like the Derby Ram Trail will make use of next-level interactive experiences such as those offered by our new virtual environment platform,
virtURL
. Through a virtual entrance lobby, visitors could experience all kinds of digital content – think 3D sculpture showrooms, virtually connected auctions, animation-based presentation rooms, digital goody bags and more.
Harnessing our industry-leading capabilities to accelerate brand awareness, virtURL® | Powered by Bloc enables brands to create an even richer digital hub.

Pioneering creative and tech solutions to help brands go further, we help companies engage, showcase and connect – with impact. Get in touch to see how we can help you.