13 Oct 2021
The Derby Ram Trail in numbers
After 12-and-a-half weeks dotted throughout the city centre, the Derby Ram Trail recently came to a close
as the 30 sculptures went under the hammer
of auctioneer and TV personality Charles Hanson. Paddles were raised and money was too, with over £300,000 secured and dedicated towards the future of Derby Museums.
As we celebrate the success of what has been an epic event of discovery, we've been diving into the highlights to unveil the Derby Ram Trail's impact. Bloc has designed a baa-rilliant brand, website, interactive app and range of print materials,
having been involved from day one
as Creative and Digital partners. With smiles on faces and assets in action, it's been great to see not only businesses but visitors of all ages, locations and backgrounds get involved. From taking snaps
with our sponsored rams
to collecting all 30 rams through the app, below are a few of our favourite best bits.
As well as capturing images from trail-goers throughout the event, we've also been putting the facts and figures to the test – highlighting the reach and engagement of the trail. Interactive and AR features and the ability to collect historical ART-eFACTs made the app a unique free way to explore the event. This focus on participation saw it downloaded nearly 8,000 times and, at 4.3 stars, receive one of the highest average user reviews compared to other current Wild in Art apps.
Our Creative team also bolstered the event's engagement, with 30,000 of their map designs printed and even more visitors
exploring the trail website
. Check out the full range of figures below.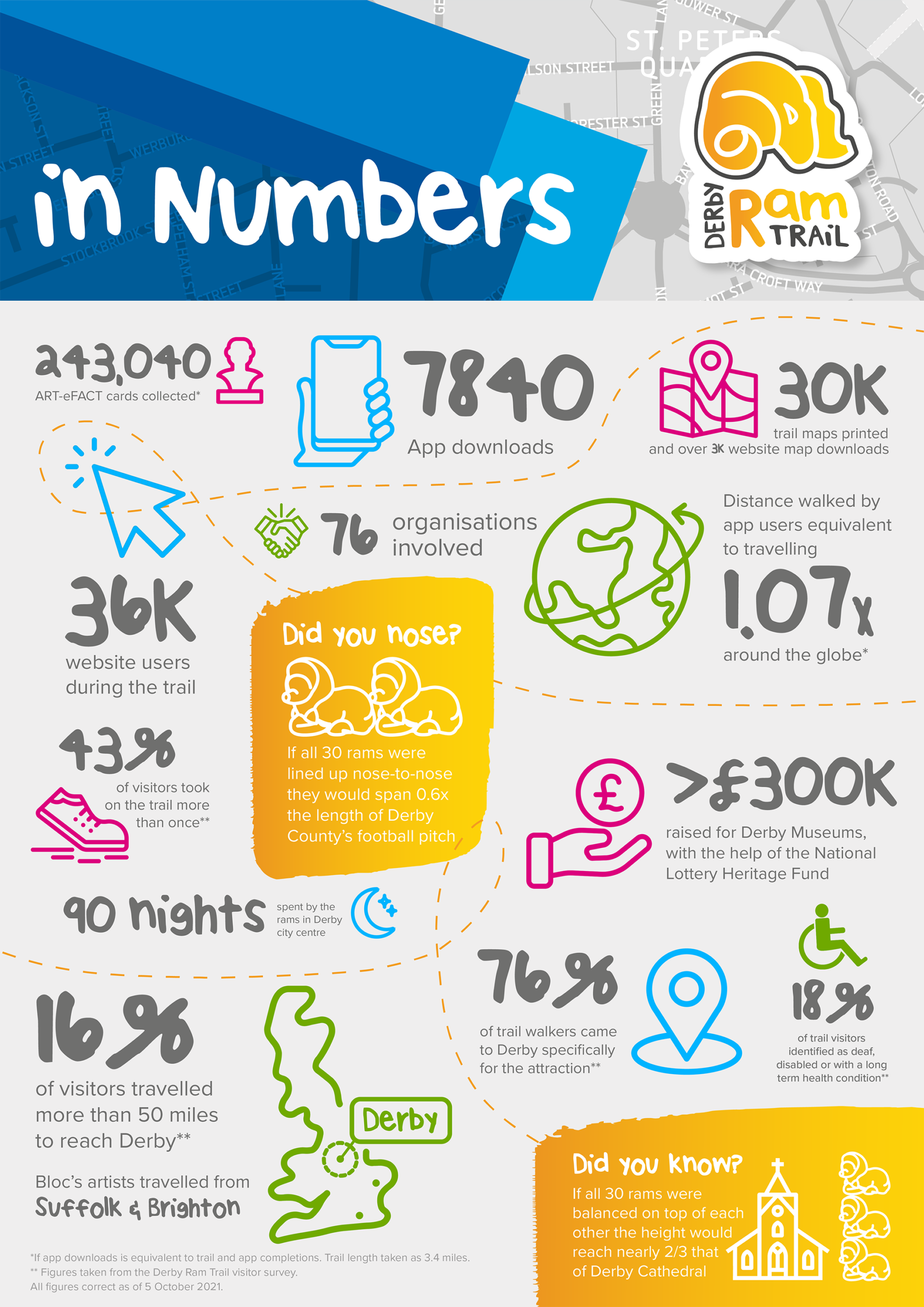 Jenny Cuadrado, Head of Fundraising at Derby Museums, said:

"The numbers don't lie! The Derby Ram Trail has captured the hearts and minds of so many people – reflecting combination of creativity, innovation and interactivity of the project from start to finish.

We've been thrilled by the response and participation from our visitors, local businesses and the wider heritage and cultural community. The mix of creative and fun printed resources, and digital engagement through the apps, created a fully accessible and exciting experience and really brought the rams to life."

With trail-goers travelling from all around, many to specifically visit the trail and some even taking to the trail more than once, the Derby Ram Trail has no doubt been a boost to the local economy. An event to 'ram-member' – it's been a source of joy as we all took the opportunity to get out and explore the city during the easing of COVID-19 restrictions. But the rams won't be quiet for long…

They may have gone to new pastures, but they're definitely not forgotten. Stay tuned for more exciting Ram Trail news – coming soon.