R.A.M Revealed: Meet our Derby Ram Trail Sculpture
A design encompassing a spirit of innovation, technology, a sense of other realities and a name to raise a smile, we're delighted to reveal Ramdom Access Memory (otherwise known as R.A.M.) – our ram sculpture for the Derby Ram Trail!

Our chosen artist Anne-Marie Byrne, who has previously painted for many public art trails across the UK and raised over £90,000 for the various charities, pulled out all the stops to complete our ram design just in time for Covid-19 challenges in March 2020. Now, after a year in 'flock'down, R.A.M. has joined the herd in Derby for the highly anticipated Derby Ram Trail – and we're thrilled to finally be able to share details of the design.



R.A.M refers to a computer's Random Access Memory and celebrates the ingenuity of the human mind.

In Viking mythology, Odin had two ravens – Thought (Hugin) and Memory (Munin). Memory perches on the right hemisphere of the brain, while Thought flies through, constantly firing ideas on the left. The human figure is the originator of both thought and memory.

Bloc Director, Keith Cox was not only behind the selection of our R.A.M. design, but he was also on the Artist Shortlisting Panel back in December 2019 – shortlisting 90 out of 160 designs. He discusses why he chose Ramdom Access Memory:

"Innovation, knowledge sharing and alternative realities is what Bloc's all about, so we wanted a design that would reflect that essence. R.A.M. ties together technology and connectivity in a way that truly represents our business. We also think it's pretty awesome too…"

Anne-Marie Byrne shares her excitement for the Derby Ram Trail launch:

"I'm delighted the rams will finally be unveiled and people will have a chance to see them in all their glory at last! The rams will be a splash of colour, creativity and ingenuity that we need right now. A free, fun thing to do with your family, get a bit of exercise, explore your city and take in a huge variety of art.

I've been involved with several trails round the country, and hope Derby will get the same buzz and enjoyment from the rams as I've seen elsewhere."



R.A.M will take residence outside Sainsbury's in Derbion for the duration of the trail, in a well-trafficked location within the city centre. Designing the Derby Ram Trail brand as well as all trail collateral, event Creative Partners, our Bloc Creative team, are also sponsoring a ram located on at the crossroads of Friar Gate and Stafford/Ford Street.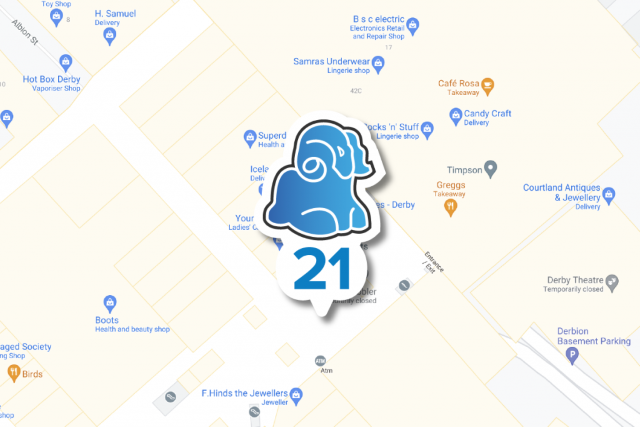 The Derby Ram Trail is a spectacular free art and discovery trail organised by Derby Museums in partnership with Wild in Art. It sees 30 uniquely decorated 5ft ram sculptures take to the city of Derby from 27 May to 22 August 2021.
As the trail's Digital Partner, we've also been collaborating behind the scenes to bring the trail to life with
an exciting interactive app
,
revealing a preview glimpse last month
with the Derbyshire Telegraph. It will guide visitors around the trail with a real sense of quest, enabling users to collect rams – including our R.A.M – and reveal hidden layers of digital information and interactivity.
Keith explains why we joined the trail as a Digital Partner:
"The Derby Ram Trail reflects the combination of creativity and interaction which is at the heart of our own business. As the trail's Digital Partner, we're delighted to play our part in enabling local communities and visitors to celebrate our city's rich art, heritage and culture through creative digital technology."
We hope seeing our R.A.M will prompt the creation of fantastic 'memories'. So don't forget to visit Ramdom Access Memory outside Sainsbury's in Derbion over the next 12 weeks,
download the free app
and share your images with us
@RamdomMemory on Twitter
.